Explosive gender reveal party shakes houses miles away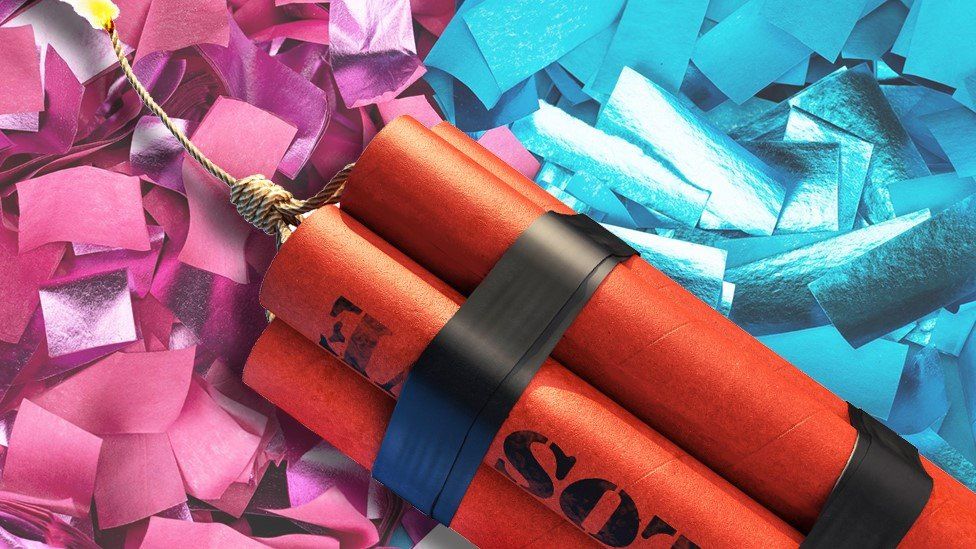 Explosives used at a gender reveal party have caused buildings to tremble across the US state of New Hampshire.
An expectant couple had gone to a quarry to let off an explosion to reveal the sex of their unborn child.
People in towns miles away felt the impact, which was said to be caused by mixing chalk with 80 pounds of Tannerite, an over-the-counter explosive.
The man who set it off has reportedly handed himself in to police.
Luckily, nobody was seriously hurt as a result of the blast.
The explosion was so big it was caught on a doorbell camera.
Local news reported people across New Hampshire saying there had been an earthquake, with some reporting cracks in the foundation of their homes.
What is a gender reveal party?
It's a tradition which started in the US, where expectant couples throw an elaborate party to announce the sex of their child, before the birth.
Often there is a ceremony; like a cake-cutting, or a balloon-popping, where the contents will be either blue or pink to reveal the sex of the child. This is usually a surprise to both parents.
It's not the first time these events have caused dangerous accidents.
In September last year, a firework at a gender reveal party caused a week-long wildfire in southern California that destroyed woodland and caused people to flee their homes.
Authorities are still investigating the New Hampshire explosion.
In case you're wondering, according to reports, it's going to be a boy.