The science of hugs: 'I never knew how much I needed them'
By Alice Evans and Annabel Rackham
Newsbeat reporters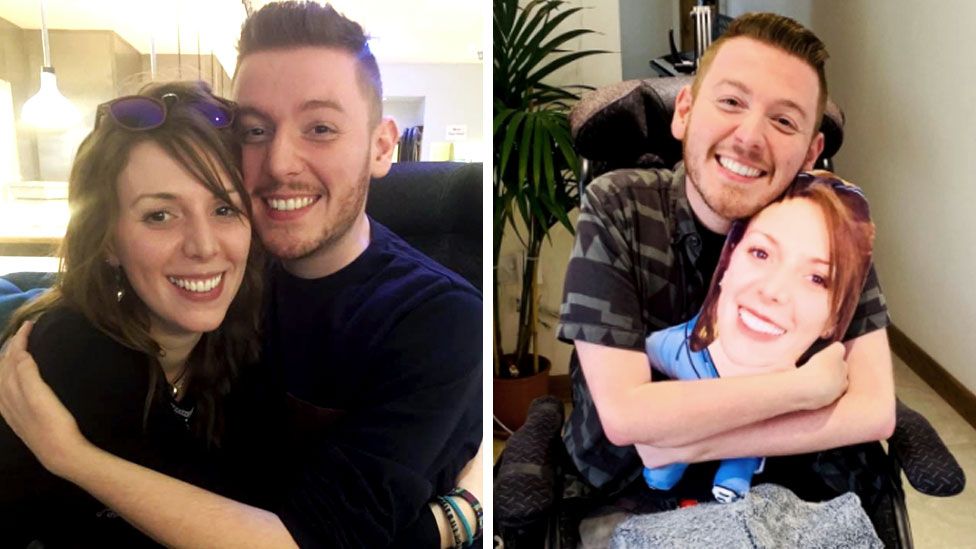 Ross Lannon wouldn't class himself as a big hugger. But giving friends and family "a good squeeze" is what the 27-year-old, who is shielding, misses most about his life before the Covid pandemic.
Ross, who lives in Truro, Cornwall, "could probably count on one hand" the number of hugs he's had since March last year.
He lives alone and is on the government's list of people who are extremely vulnerable to coronavirus, due to his progressive muscle-wasting condition, spinal muscular atrophy (Type 2).
"It's not been great," Ross, a lifestyle and disability blogger, tells Radio 1 Newsbeat.
"I never really knew how needy I was before this. I wouldn't have put myself down as a huggy person but you just really miss that that sort of human contact."
Three carers help Ross on a daily basis but he has to keep his distance from them as much as he can, with hugging strictly off limits.
Why is hugging still a no?
The risk of transmission is lower outside than in, but that doesn't mean hugging is back on the agenda.
If someone has coronavirus - maybe without realising it because they have no symptoms - they'll be releasing the virus as they breathe, especially if they cough.
Some of that will be carried in droplets, most of which will quickly fall to the ground but could reach your eyes, nose or mouth if you're within 2m (6ft) of them.
So everyone's still being encouraged to keep their distance from one another - and to avoid hugging.
There's a scientific reason behind why Ross - and the rest of us - crave cuddles so much, explains Sophie Scott, a professor of cognitive neuroscience at University College London.
"Physical touch in general is really important to humans as it's something that's relaxing - you actually get a reduction in stress from being touched by someone, but it can't be from just anyone - it has to be a meaningful thing," she says.
'It never stops being relaxing'
Human touch is associated with the hormone oxytocin, which Prof Sophie says plays "a very important role" in mother-and-baby bonding.
"It's soothing and relaxing to babies and it never stops being like that, even when we get older," she adds.
That's something Ross can vouch for. Cuddles from his three-year-old cockapoo, Ralph, have helped to make up for the lack of human contact, but it's the occasional embrace from his mum that's helped him at some of his roughest moments in the past year.
"There's only so many hugs and kisses that your dog can give you to keep you sane," he says.
"Just having that human contact bit of interaction brings you closer to people."
Even though coronavirus guidance means you can only hug people who you live with or are in your support bubble, Sophie says there are ways you can replicate the emotional boost of a cuddle without physical contact.
As "weird and artificial" as Zoom can feel, Sophie says watching a TV programme or having a cup of coffee with someone on a video call is much better than not having the call at all.
However, "the best form of social contact is face-to-face", she says - even if it has to be from two metres apart - because you can look at each other and physically interact.
"There's still a risk and it doesn't really work until we are all vaccinated as you could be putting someone else at risk.
"So unfortunately we just have to wait, grit our teeth and get through this."
Ross has had his first dose of the vaccine but isn't sure he'll feel safe hugging friends and family outside his bubble even after everyone has had a jab.
"It's something I ask myself probably daily. I genuinely don't know what stage I'm going to feel safe.
"It's getting that confidence to start going out again after locking yourself away for the last 12 months. It's a big bad world out there to face again."