Covid lockdown: Charities warn cancer death rate could rise
By Christian Hewgill
Newsbeat reporter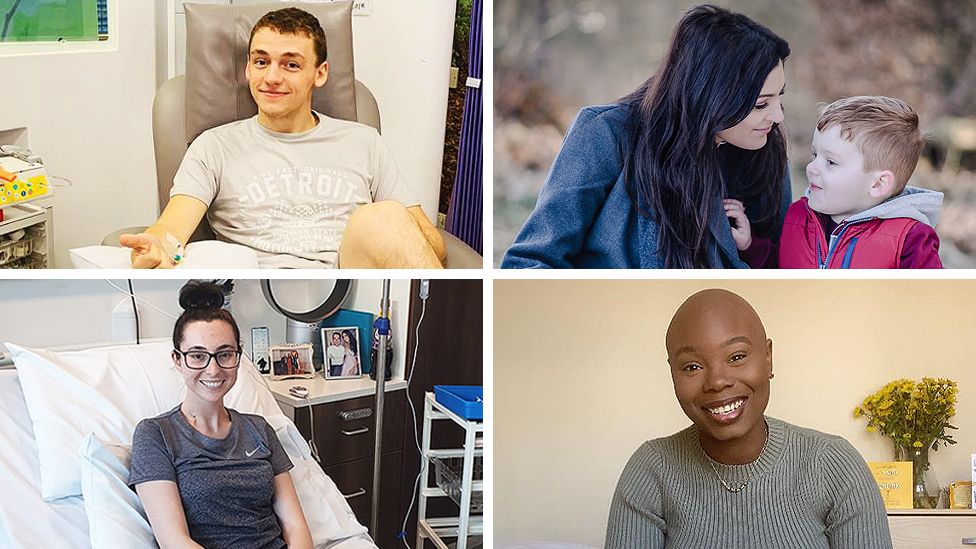 A group of 47 cancer charities says that without urgent action, the UK's cancer death rate will rise for the first time in decades.
NHS figures suggest tens of thousands fewer people started cancer treatment since the first lockdown compared to normal times.
One Cancer Voice says that the NHS needs more resources.
The government says cancer treatment remains a top priority and urges people to see their GP if they have symptoms.
Radio 1 Newsbeat has spoken exclusively to One Cancer Voice about the impact of coronavirus on cancer care.
The group of charities also wants to see more staff available to diagnose and treat cancer, with greater NHS access to private facilities in order to "clear the backlog".
"We are calling on the government to invest more money in ensuring the backlog of cancer cases is reduced and eliminated," says Michelle Mitchell, the boss of Cancer Research UK, which heads up One Cancer Voice.
"We could face, in this country today, the prospect of cancer survival reducing for the first time in decades. That's why urgent action is required by the government."
One Cancer Voice estimates that millions of people have had their cancer care affected in some way by the pandemic. Newsbeat's spent the last three months speaking to some of those.
George Hatfield, 20, was told by doctors he's one of the youngest patients ever diagnosed with oesophageal cancer.
Having been on different treatments of chemotherapy and immunotherapy, George, from Hampshire, was considered for surgery because of the "good response" he was showing.
But he says in the pandemic, that all changed, with doctors hesitant to press ahead.
"They didn't want to put me at an even higher risk of catching Covid and getting seriously ill. I was already immunosuppressed by my drugs."
George admits thinking about how things might have been different without a pandemic, which has effectively taken away a treatment option.
"When having lots of options is your positive thing and suddenly one gets taken away, it's quite worrying," he tells Radio 1 Newsbeat.
George says his future is very much a case of taking "every day as it comes" and not looking too far ahead.
"I look a bit further now. When I first started, I didn't look past three weeks but now I look at what plans I've got for the end of the year."
He feels his experience has been made worse by things he was looking forward to being stopped.
"Occasionally, I do get very frustrated with everything. And it feels like the entire universe is out to get you and make things as difficult as possible for you.
"But I think sometimes you just have to not dwell on things too much and take things as they come."
Craig Russell's stepdaughter, Kelly Smith, had stage four terminal bowel cancer.
It was being well-managed by chemotherapy, according to Craig, but because of the pandemic, she was advised to have a 12-week break in her treatment due to the risk of catching the virus at hospital.
She died 12 weeks later, aged 31, leaving behind her now seven-year-old son, Finnley.
"From Kelly's point of view, chemotherapy was keeping her alive so it was best to deal with that first," Craig, from Macclesfield, says.
"We believe staying on the chemotherapy may have given her a month, three months, six months or longer.
"When you've got a young son, that's all the time in the world.
"You should never hear somebody of that age, especially somebody you love, coming out with the words that they don't want to die and they're terrified."
Craig says Kelly would be angered by the way the pandemic has hit other people's cancer care.
"First of all, obviously, Kelly's care was impacted, and in my opinion, led to her premature death.
"She fought for the rights of cancer patients to be heard and treated. At the moment neither is happening.
"In my view, the government has completely neglected cancer patients in this country."
The government says: "Cancer diagnosis and treatment has remained a top priority throughout the pandemic, with 1.86m urgent referrals and over 477,000 people receiving cancer treatment between March 2020 and January 2021.
"We continue to urge people to come forward to their GP if they have symptoms. As part of our additional investment in the NHS, an extra £1bn is being used to boost diagnosis and treatment across all areas of elective care in the year ahead."
One Cancer Voice estimates at least 43,700 fewer people got treatment for cancer from April 2020 compared to the equivalent period before the pandemic.
That's based on stats from the health services in England (April to January 2021), Wales (April to December 2020), Scotland and Northern Ireland (both April to September 2020).
Sophie Mulligan from Liverpool is in remission from leukaemia.
Her joints have been left damaged, meaning she lives in a lot of pain and is facing a long wait for surgery.
The 24-year-old's white blood cells had to be flown to America for treatment. Normally, the process for cells would take around four weeks, but Sophie had to wait longer.
She was concerned about whether her cancer would spread in those extra few weeks.
"I saw people moaning about trivial things, like not being able to go out and see friends or go to the pub," she says.
"And I'm thinking, this is a life or death situation for me, that is totally different."
With all the treatments she's had over the years, Sophie has developed a condition called avascular necrosis - which is the death of bone tissue.
"And that affects my hip joints, shoulder joints, elbow and wrist.
"It means that I am very restricted in mobility, I suffer from horrendous pain and it affects my day-to-day life."
The pandemic means that there's a long wait for the surgery, and instead, Sophie is having to manage with painkillers and not leaving her house.
And while lots of people Sophie's age will be thinking about the country emerging from lockdown, she just wants to be pain-free.
"I'm more bothered about going back into hospital to have surgery so that I can live some form of a normal life again."
But not every cancer patient has had a bad experience during the pandemic.
Toyin Coker was diagnosed with triple-negative breast cancer the week before her 28th birthday, but is now in remission.
"I haven't had any appointments rescheduled, I haven't had any issues at all, every single treatment was right on time," she tells Radio 1 Newsbeat.
When the pandemic hit, Toyin, from London, admits to feeling "absolutely petrified".
"You think about if the surgery or treatment is postponed, and how your body would react to that.
"You don't know if the delays will make your cancer worse, because I've never dealt with it before."
So she understands the fear many other cancer patients have felt during this time.
"It's very scary to hear the issues that other people are facing, because this is a life-or-death situation.
"You've got family members that are worrying as well. So it's a lot more than the person dealing with cancer."
For now, Toyin feels stronger "and in a very good place.
"And I'm just really happy to be to be given the all-clear. I'm grateful and feel blessed."
Additional reporting from Manish Pandey.