Eurovision 2021: James Newman reveals Embers as UK song
By Steve Holden
Newsbeat music reporter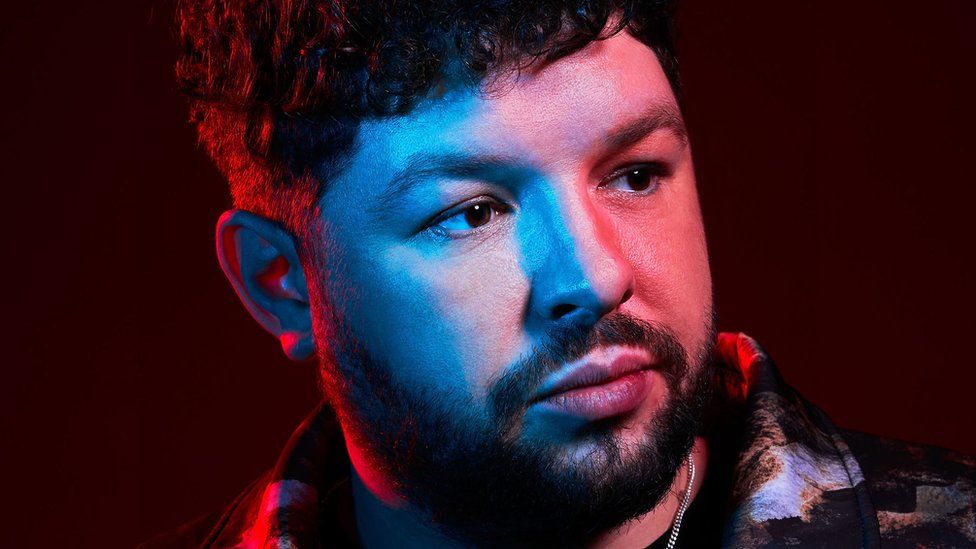 James Newman has released Embers as the song he's taking to represent the UK in this year's Eurovision Song Contest.
He describes the brassy, dance track as a "banger", and says he wanted to create something "full of positivity".
After the cancellation of Eurovision in 2020, singer-songwriter James has been given a second chance to take part.
It's due to take place 18-22 May in the Dutch city of Rotterdam, with most countries expected to release their entries by this weekend (13 -14 March).
James says he wanted to write something "fun and upbeat" to mark his return to the competition.
"Embers is about those sparks that don't die out," he tells Radio 1 Newsbeat. "When we were writing this, it felt like I wanted to show everyone that we were coming back together.
"It's about having that connection and something reigniting. It's about us emerging from this rubbish time we've been having. It fits with the idea that Eurovision is coming back."
He says he was proud of 2020's entry My Last Breath - a ballad - but it was written in a pre-pandemic climate, so he wanted to write something more positive.
"Eurovision is a celebration of music and Embers fits in that vibe. Hopefully people like it."
The video's out and James is already in rehearsal mode, working with dancers and choreographers to create the performance which he'll take to the Rotterdam stage.
Review - Mark Savage, BBC music reporter
"It's weird and cool," said my 10-year-old, walking into the room as I played to Embers for the first time. "I like it".
He's got a point. Like Newman's previous Eurovision entry, Embers is a likeable, catchy song that does a good job of dragging the UK away from the dreary nonsense we've been sending to Europe over the last decade.
But is it going to win? Probably not.
There are more adventurous and quirky songs already in the running. And Iceland's Daoi Freyr, who scored a genuine international hit with Think About Things last year, is already a favourite for the title - despite the fact his song won't be unveiled until 13 March.
That said, Newman's lyrics, about rising from the flames, will strike a chord as Europe emerges from lockdown; while the music is assiduously based on recent dance hits by Joel Corry and Jax Jones - all chunky house pianos and cheesy synth riffs.
But that's also it's downfall: Embers sounds like the sort of record made by someone who's studied prevailing trends, rather than making new discoveries of their own.
The song's already getting a lot of love on social.
Now that it's officially out. OUR BEST EUROVISION SONG IN YEARS! First time since 2017 that I can wholeheartedly support our song and the first time since 2014 that I've been this excited for us to get a good result 🇬🇧🇬🇧🇬🇧 Go on James!!!!!!

— Paul Ferguson (@pokemon_paul) March 11, 2021
Did the BBC actually listen? Have we got an entry that is reflective of current British pop music? Have we got something that's even mildly competitive? I'm SHOOK

— 🇪🇺Dan'🇪🇺 (@mundueftirmer) March 11, 2021
James Newman has clearly written the best UK Eurovision entry for quite a few years. Really hope the staging does the song justice and that those brass moments are massive and ridiculous 🎺 #embers

— James (@jrawson) March 11, 2021
How's Eurovision going ahead?
The aim is to have all 40 acts performing on stage in the Netherlands and organisers have various scenarios in place to ensure Eurovision happens, whatever's happening with the global pandemic.
They've published guidance on the measures they expect to be introduced, including social distancing, recommended quarantine times and limiting the audience in Rotterdam's Ahoy! arena.
But contestants will also produce a "live-on-tape" performance ahead of the competition, with the videos to be used if artists are unable to travel due to the pandemic, or forced to quarantine at the venue.
Eurovision commentators, including Graham Norton, are expected to attend and use ventilated booths.
Italian singer Senhit is back to represent the tiny country of San Marino and has enlisted - *checks notes* - Flo Rida for her song, Adrenalina.
The rapper is no stranger to a pop feature (Olly Murs, The Saturdays, Alexandra Burke) but we're not entirely sure he's even been to San Marino before.
At this stage it's unlikely he'll appear on the stage on Rotterdam and it's unclear how he'll be represented. Here's hoping for a hologram.
Key lyrics: Flo Rida - "Step in the party 'cause she nodding to my body like hot coals. Gasoline kerosene stop drop roll. I can't blame it on the stove. 911 when she coming down the pole."
During the year of a global pandemic, the spotlight's shone on Belarus in a very different way.
Belarus' entry is by a band who seem supportive of their leader but their inclusion in the contest is already proving controversial.
Eurovision bosses have told the Belarussian broadcaster BTRC that in its current form the song, Ya Nauchu Tebya (I'll Teach You), "is currently not eligible to compete."
Eurovision adds: "The song puts the non-political nature of the contest in question."
To this day, Ireland remains the most successful Eurovision country of all time, with seven wins.
Recent results haven't hit the heights of the multiple wins in the 1990s. However, Jedward were responsible for Ireland's highest-placed finish of the last decade, coming 8th in 2011.
After being selected for 2020, Lesley Roy is another singer coming back for the contest and she says her entry Maps was written "specifically for Eurovision."
"It's heartfelt, it's uplifting and I hope people love it," she told independent.ie.
Key lyric: "My soul is a map, my heart is a compass, I am the road."
With their eccentricity and wonky dancing, The Roop were one of last year's most eye-catching band - and they've stepped it up a notch for 2021.
The trio are back with the natural follow-up to On Fire, with Discoteque sounding like Hot Chip's Lithuanian cousins.
They didn't have an easy ride though and still had to go through a national selection show to be picked, choosing a yellow and purple colour scheme this year.
The Roop say there's "not a single person who cannot dance."