'We can't go out to Nando's': How England cricketers pass the time on tour
Interview by Steffan Powell, words by Vikki Blake
Newsbeat reporters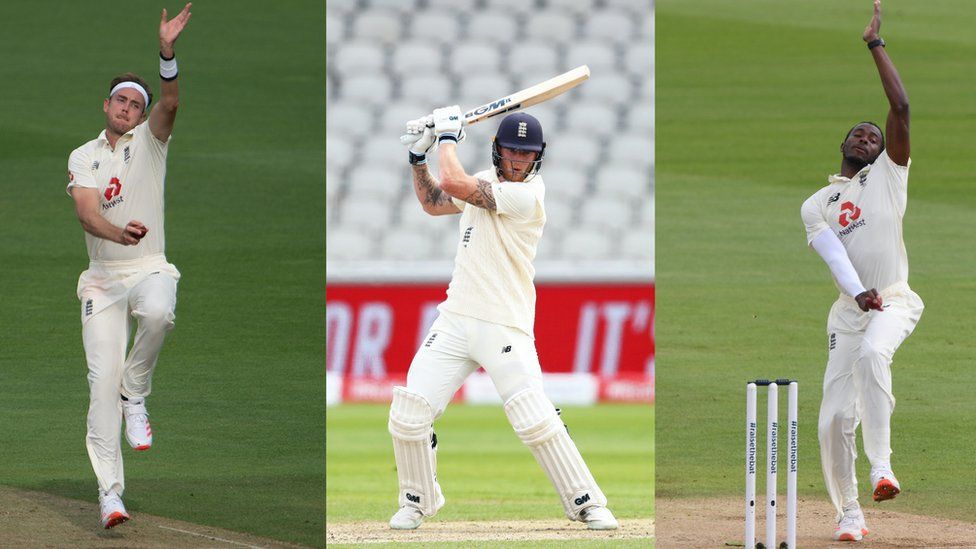 Touring the world and experiencing different cultures sounds glamorous.
For England's cricketers however, the pandemic has seen them largely confined to the inside of hotel rooms during their winter tour of Sri Lanka and India.
Some of the squad's most senior members have been telling BBC Sounds podcast Press X to Continue that online gaming has been "vital" for their wellbeing.
Usually on a long tour abroad England's cricketers would keep connected by sharing rooms, sightseeing and eating out at new places.
This winter though, they can't do any of those things.
"Touring with these biosecure bubbles has made everything so different," Stuart Broad tells Press X to Continue.
"Because our touring life has gone from being able to experience different things in countries to experiencing a hotel room.
"That's why gaming has become such an influence in the past year because it's the way you socialise with the guys outside of cricket.
"We can't go out to Nando's or anything and grab a bite to eat.
"So you say, 'right, Call of Duty 7pm?' And you might get fifteen or sixteen of us playing and you get to chat and get to know different guys through it."
The team played their first match of the tour at the beginning of January, and while the Test matches have come to an end, one-day games continue until the end of March.
The players are grateful to have been able to go on tour and keep playing in the pandemic, but it's a long time away from home confined to hotels.
All-rounder Ben Stokes tells the podcast: "When you have something taken away from you - like going out for dinner and stuff like that you have to find something else to occupy that time, to help keep in good spirits.
"Gaming's had such a huge role in keeping everyone's mental side of touring in as good a place as it possibly can be."
Playing online has become such an important part of the team's routine that sourcing good internet has is now an essential part of the tour.
Ben says he's never seen a "grumpier group of cricketers" that when they got to Ahmedabad and the wifi was not good enough to play on.
"Gaming, for me mentally, has been vital," Stuart adds. "It's sort of taken over the banter in the changing room.
"It used to be: how did you play at golf the other day? You'd be talking about what you've been up to.
"But because there's not much to do, gaming's taken over.
"Now it's: 'How good was that snipe the other day!' Stokesy and I have got terrible at downloading our clips on our phone and going around the bus in the morning: 'Look at that lads!'"
"If you just want to catch up with your mates that play, then turn on and say 'Hey, jump in the lobby' - it's probably the easiest way to do it," agrees fast bowler Jofra Archer, who says it also helps him connect with players he sees less often.
The team have been streaming their games to interact with fans too.
"It's actually really refreshing, because everyone's who's watching either loves gaming or loves cricket," Stuart says.
"There's no abuse. There's no agenda. It's never: 'Oh, you were rubbish last week'.
"It's all just really positive chat about gaming and good fun, which I've really enjoyed. It's quite rare for social media, to be honest.".
"People enjoy watching average players play for a change!" Ben Stokes laughs.
"They can relate to what we're doing and the emotions - you know, like shouting at the screen, or shouting at each other - because that's what people do at home."
"I guess it's probably a welcome change to some people because you can get a sense of someone's actual personality a bit more this way," agrees Jofra.
And if you thought that the online sessions were just a little fun and relaxation in between tense cricket matches? Well, think again.
"I'd love to say that we don't take it that seriously and we're not that competitive," admits Stuart.
"But it's actually outrageous. You can hear guys on different games down the corridor!
"I spoke with Rory Burns the other night and he's next 7 door to Jofra, and I could hear Jofra through Rory's own headphones, screaming. That's how seriously we're taking it!"
More from Press X to continue