Cyberpunk 2077: How did the release go so wrong?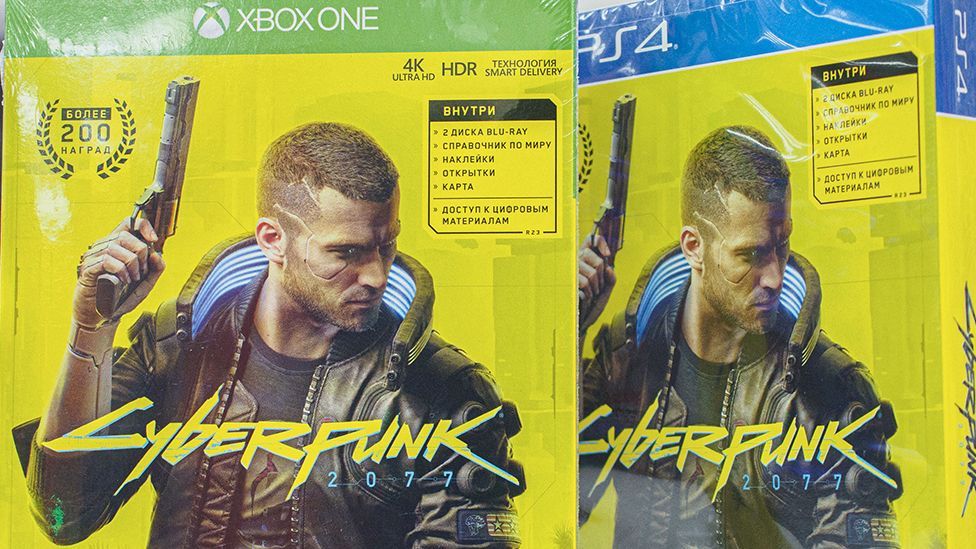 It's safe to say things haven't gone smoothly for the makers of Cyberpunk 2077.
Probably the most anticipated release of 2020, it's a game that took years of work and millions of Euros for CD Projekt Red to get onto shelves and into online stores.
It even stars Keanu Reeves.
And, if you've played the game on a good PC, then you've probably had a pretty sweet time.
But for a lot of people jumping into the Cyberpunk 2077 world on older consoles, they found the game riddled with bugs, with little resemblance to what had been promised by developers and even some reviewers.
Sony and Microsoft removed the game from online stores and are giving refunds to anyone who bought it.
It says reviewers were only able to play the PC version before the game's release, meaning the positive scores it received were because its reviewers were playing on high-end computers - where the game works great.
'It looks like a Nintendo 64 game'
Patrick Swift from Milton Keynes bought a copy of the game from the Microsoft Store to play on his Xbox.
"I was really excited and everything but the first thing I notice is, it looks like a Nintendo 64 game," he tells Radio 1 Newsbeat.
"I was really taken aback by that and about 10 minutes in - the game crashes."
"It was just a really underwhelming experience after so much hype."
Patrick says what he experienced in the game was "nothing like how it was advertised" and is "gutted" after waiting years to play it.
Added to that, he's now struggling to get a refund from Microsoft - which has not taken the game from its store.
'It won't look like high-end PC'
CD Projekt Red has apologised for not showing console gameplay before release.
"We should have paid more attention to making it play better on PlayStation 4 and Xbox One," it said in an apology.
It has said two large patches will come in early 2021 - one in January, the second in February.
"They won't make the game on last-gen look like it's running on high-spec PC or next-gen console, but it will be closer to that experience than it is now," it added, admitting that some players would still not get the experience they expected.
Vic Hood, the gaming editor at Techradar, says it's "huge" that one of the big games companies has removed a major title like this from its online store.
"I can't think of the last time that's been done," she tells Newsbeat.
But it's not the first time CD Projekt Red has released a game that's been buggy and problematic.
The company also made The Witcher 3 - widely known, Vic says, as "one of the best". But that also launched with bugs - although they were much less serious than the Cyberpunk problems.
"In terms of fans, it's I think it's going to take a bit for them to potentially build up their reputation," she says.
"And that really depends on how quickly they solve this issue, how quickly they implement those bug fixes."
The company admitted it knew about the bugs, but now it's clear it didn't know the extent of the problem, and was unaware it wouldn't be as easy a fix as The Witcher 3.
Some players found that their characters had their (customisable) genitals outside their clothes, for instance.
John Perry, 26, has been having a tough time enjoying the game as it is. He's been playing it on his PS5, where a PS4 version is available. The official next-gen releases are scheduled for next year.
"It's a buggy mess," he says.
"I've had over 30 crashes which took me back to the grey screen. It's obviously not working."
He requested a refund this morning, and says the game can "only get better".
"At least the developers are admitting their fault about the issues they need to fix, which is a good thing."
But the bugs people have experienced, and how serious they have been, have varied for different people.
Jordan Moseley, who's 28, says he's seen worse but does think what's going on is "immersion breaking".
He's already requested a refund from Sony.
But it's not all doom and gloom. He's played the game on PC too, and says that's a better experience.
"It doesn't seem to have a whole lot of problems because it's a new PC so there's enough there for it to run properly."
Vic says she was in two minds about whether she'd speak to Newsbeat about Cyberpunk, due to toxicity among fans of the franchise, which began as a table-top roleplaying game - a bit like Dungeons & Dragons.
Games journalists have been targeted online for what they've written about the game and even the individual developers - who Vic says are rumoured to have worked up to 100 hours a week to finish the game - have been attacked too, since its release.
"It's an executive issue, where they are the ones pulling the strings," she says.
"There was frustration from people who had pre-ordered the game each time it was delayed and that probably played into a feeling of pressure on them.
"It doesn't mean the game should have been released with those bugs, but I think that was a big factor of this."
'Some things need to be delayed'
The game was due to be released on 16 April, but after first being delayed until September, then November, it eventually dropped in early December.
Vic says that if there's one thing she hopes the games industry learns from the Cyberpunk 2077 experience, is that "there needs to be patience."
"What I've learned from reviewing games and even being a fan is that if something is delayed, there are good reasons that it is delayed," she says.
"Sometimes things need to be delayed, just so that they're right. It's so hard to fix something once a horse has bolted. That is much harder to do."
Find out what the Press X To Continue team thought of the game - listen and subscribe now on BBC Sounds