Beavers, burpees and bread: 2020's most-searched
By Chris Smith
Newsbeat reporter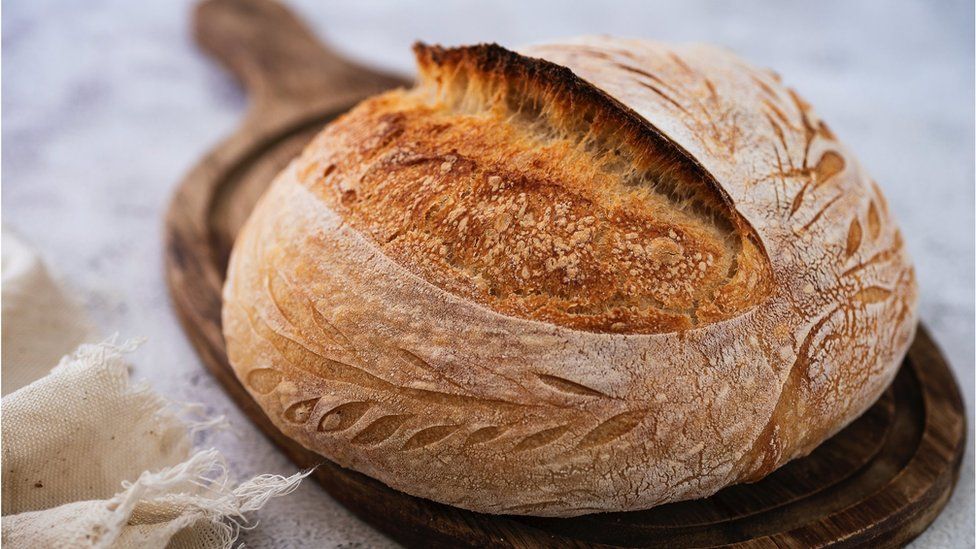 It was the best of times, it was the worst of times.
It was the age of Wagamama katsu curry, it was the age of homemade IKEA meatballs.
It was the season of Schofield, it was the season of sanitizer.
But most of all, it was the season of sourdough.
Yes, it's that time again when Google Trends releases the UK's most searched-for terms of the year.
And, as you'd expect, 2020's list makes for fascinating reading.
Not surprisingly, the coronavirus pandemic dominates this year's list - as a quick look at the top How To questions of 2020 will testify.
How to make a face mask?
How to make hand sanitizer?
How to make bread?
How to get tested for coronavirus?
How to cut your own hair?
How to cook eel?
How to cut men's hair?
How to boost immune system?
How to self isolate?
How to treat coronavirus?
How's that for a snapshot of 2020? (Apart from the bit about eels, which we'll come to later.)
As lockdown confined so many of us to our kitchens, it's not surprising that recipes were some of the top searches.
The ubiquitous sourdough bread makes an appearance of course, with bread at the top of the list and "white bread" and "soda bread" also making the top 10.
But perhaps a little surprisingly, the second most searched-for recipe in the UK this year was the classic French comfort food beef bourguignon.
People were also missing their favourite meals out while restaurants were forced to close.
Wagamama katsu curry comes in at seven - and people pining for the middle-class McDonalds sent the term ''IKEA meatball recipe" to number nine.
Bread recipe
Beef bourguignon recipe
School cake recipe
KFC recipe
White bread recipe
American pancakes recipe
Wagamama katsu curry recipe
Sourdough starter recipe
IKEA meatball recipe
Soda bread recipe
While that sourdough starter was beginning to bubble, lots of us reached for the remote.
The most searched-for TV show of the year was Love Island.
The reality show made its first winter appearance back in grey January - though the tragic death of former presenter Caroline Flack was announced before it had finished its run.
Normal People also proved a big online talking point, as did Tiger King, which became a hit in March just as the pandemic really started to bite.
And as I'm A Celebrity eased people through the end of Lockdown II, the campmates in the castle promoted several trending search terms.
That explains the strange appearance of "how to cook eels" on the earlier food list - the contestants found eels in their basket one dinner time.
And the resulting meal made it obvious that they would have greatly benefited from a Google recipe search.
Radio 1's own Jordan North also became the UK's fourth most searched-for celebrity off the back of his castle antics.
He was only beaten by the stars of Tiger King and TV host Philip Schofield, who came out in February.
As so many of us harbour vague ideas of taking up intermittent fasting or something in January 2021, fitness was a big theme in our online lives.
Living rooms across the nation echoed to the sounds of "bunny hops! Silly billies! Cor, I've got a right sweat on!" at 9am sharp every morning in the first lockdown.
The culprit? Joe Wicks, of course - now Joe Wicks MBE thanks to his valiant efforts keeping the nation dripping sweat from their noses onto the lounge rug.
But just behind Joe was Australian YouTuber Chloe Ting, whose online workouts also proved a hit with UK searchers trying to offset all that homemade bread.
It's a question millions of people wanted an answer to in 2020… When?
Here's the full list of the top UK search terms beginning "when" from this year.
For full effect, wail the list out loud while clasping your hands together.
When will lockdown end?
When will gyms reopen?
When does lockdown start?
When will schools reopen?
When does furlough end?
When will pubs reopen?
When does Eat Out to Help Out end?
When will the new president be announced?
When does Love Island start?
When will hairdressers open?
Song lyrics googled this year provide a strange mix of the patriotic and the, er, not quite so patriotic.
Dame Vera Lynn's wartime banger We'll Meet Again was high on the list - along with Rule Britannia and Land of Hope and Glory - spurred on by the VE Day anniversary celebrations in May.
What is VE Day? was also the most-searched question beginning "what is?".
But it was Cardi B and Megan Thee Stallion who most people wanted subtitles for.
If you're not familiar with the song, here's your NSFW warning. We suggest you don't search for the lyrics if you're easily offended.
WAP lyrics
We'll Meet Again lyrics
Godzilla lyrics
The Box lyrics
Rule Britannia lyrics
Dance Monkey lyrics
No Time To Die lyrics
Break My Stride lyrics
Land Of Hope And Glory lyrics
Savage Love lyrics
The main list of 2020's most commonly-asked questions in the UK throws up just one final surprise.
Among the usual suspects of "who won the election?" and "when will lockdown end?" there was an odd-looking entry at number two.
The question is this: "Where does vanilla flavouring come from?"
We've traced this one back to a TikToker named Sloowmoee, who asked people to film themselves searching that question and post their reactions.
It would have led many people to a National Geographic article with the clickable headline Beaver Butts Emit Goo Used for Vanilla Flavouring.
The article's about a substance called castoreum which can indeed be harvested from the hindquarters of beavers.
But, to avoid you choking on your latte, we're told most vanilla flavourings are now synthetic.
If 2020 had a fitting conclusion - this is quite probably it.