Covid-19 vaccine: 'Others deserve it before me'
Interview by Lindsay Brown
Newsbeat reporter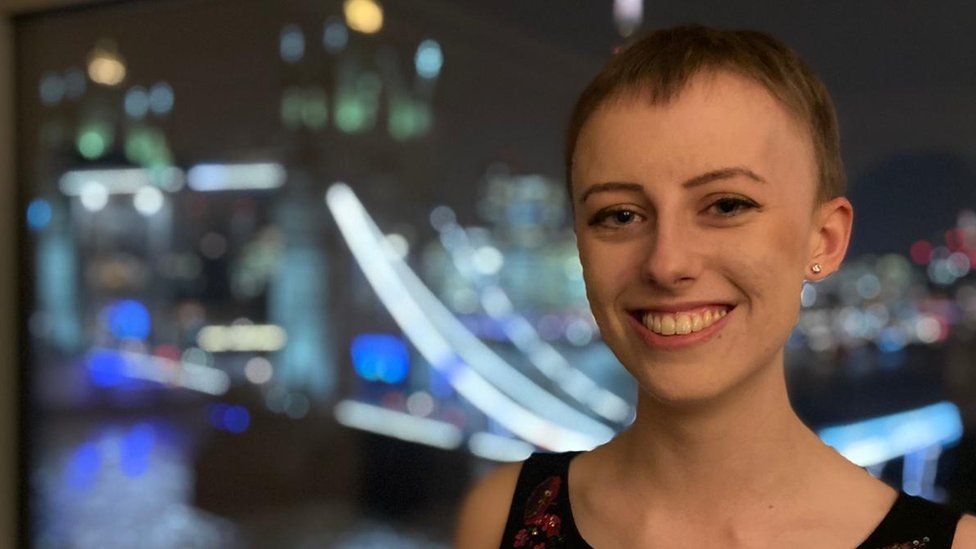 "I'm still getting out there and I'm trying to live my life, despite Covid."
Two years ago, when Laura Nuttall was 18, she was diagnosed with terminal brain cancer.
She has had surgery, chemotherapy, radiotherapy and is now undergoing immunotherapy treatment in Germany.
Laura's immunocompromised, which means her immune system is weak and might be unable to fight infections and other diseases.
"I obviously take precautions, maybe more seriously than others, the 20-year-old student tells Newsbeat.
"It's nerve wracking", her mum Nicola says.
"I am very conscious that if Laura was to get Covid, I have no idea how badly it might hit her."
Laura says she feels like she's "doing fine" and wants others, particularly older people, to get the Covid-19 vaccine before she does.
"I feel like there are people that deserve the vaccine, before I get it."
"I would feel a lot happier, knowing that she'd had the vaccine and was protected," she says.
When Laura was diagnosed, doctors gave her 12 to 18 months to live.
Nicola says having a vaccine sooner would give Laura a bit more freedom, flexibility and more confidence.
"I don't want her to stop living her life and stop socialising - I don't want her to have to stay in.
"I think it's so important to know that she's had the vaccine early and we're not going to have to wait, it could be the best part of half a year before she gets a turn."
"It's the worst thing you can ever imagine being told, that your daughter has a terminal diagnosis," Nicola says.
"It's been hugely traumatic to see Laura go through surgery and radiotherapy, to lose her hair, and have to go through chemotherapy every month for 12 months."
Although she says it's been tough, Laura has always been very positive.
"There's no rollercoaster ride like this one, it's horrific.
"But there have been highs, like the things we've done."
The family decided to start a bucket list of things to do in 2019.
"I took a gap year - a kind of an enforced gap year - and I did wonderful things," Laura says.
She travelled - going on safari in South Africa and taking trips to Amsterdam and New York.
She monster trucks, drove buses, spent a day with the police, went to football matches, watched beans being made in the Heinz factory and went fishing with Bob Mortimer and Paul Whitehouse.
She even got to meet Michelle Obama.
"I was kind of doing those just to make a statement that my life would not be limited by having cancer.
"I'm really glad that we managed to get out and do all the crazy stuff that we did.
"Having those memories to look back gives me a boost when I feel low during Covid."
Now Laura is in her second year at Manchester University studying politics, philosophy and economics.
Until she gets the vaccine she says she's "being sensible" but continuing to live her life.
Looking back at 2019, Nicola and Laura say they feel thankful they did it all before the pandemic, as they don't know whether they'll have the time or opportunity to continue their family adventures.
"We have made good use of the time we had and I'm really glad it happened last year when we were able to do so many things that we couldn't do this year," Nicola says.
"None of us know how long we've got really."