Strictly's Maisie: EastEnders didn't prepare me for the attention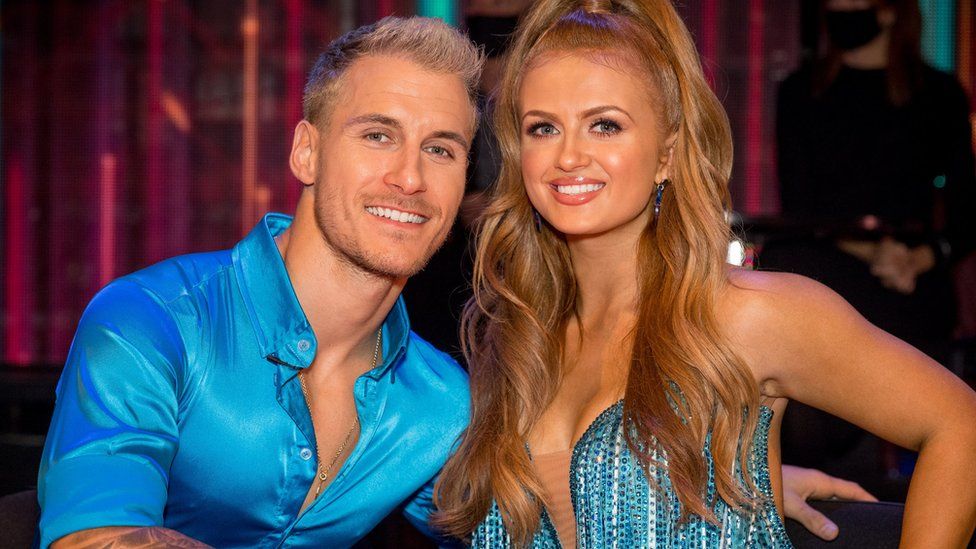 "I'm used to being in the limelight but Strictly is a different level."
That's quite a statement from Maisie Smith, given she's basically grown up on screen. She first appeared as Tiffany in EastEnders aged six.
But as she gets ready for Blackpool week on Strictly Come Dancing, the 19-year-old admits she wasn't ready for all the attention.
"It's weird going to the rehearsals every day and there are 10 people waiting to take pictures of you," she tells Radio 1 Newsbeat.
A quick Google search throws up an endless number of tabloid stories about her and - as always happens to the younger contestants - intense speculation about romance with co-stars.
"I just wasn't expecting that from day one. Everything is heightened massively."
Inevitably, those romance rumours involve another of the show's young stars, singer HRVY.
"It's quite tough because everyone is watching you," he tells Newsbeat.
"And not just for the dancing. They're watching outside of Strictly - what you get up to, how you act."
That's a nod to a recent tabloid story suggesting Maisie and HRVY were standing too close to each other when arriving at the studios for filming - and were therefore breaking Covid rules.
"We try our best to social distance. We've got a two-metre glittery stick - and yes, when you're outside and talking and walking, it's hard to maintain that distance. But we're trying as hard as we can," adds the 21-year-old.
HRVY also thinks some people are hard on Maisie because "she's a girl and confident and amazing at what she does".
That comment has echoes of Alexandra Burke's experience on Strictly back in 2017.
Even though she was a brilliant dancer, she regularly found herself in the bottom two after the public vote. She later said the UK had a "massive problem" with confident women.
Away from the attention, both Maisie and HRVY are still loving being on the show - and don't want the experience to end.
Last week, Maisie and Gorka survived the dance-off after ending up in bottom two. It was a "wake-up call" according to Gorka.
"It doesn't matter how good you are. It's the audience who vote and can save you. You can get four 10s and end up in the dance-off," he says.
And this week is a big one.
'Everyone's friends - then it gets serious'
Traditionally, Blackpool is the week every couple wants to get to. But of course, this year there'll be no trip to the seaside town due to the pandemic.
Instead, Blackpool will be re-created in the studio - although there's probably no truth to Gorka's claim that "the production team is looking to fold Blackpool Tower in half and then bring it down to London on massive trucks and put it on the roof."
It's also the point in the show where the competition really starts to heat up.
"Before that, everyone's friends and then it gets more serious, everyone gets competitive, pushing their routines," says Gorka.
HRVY's dance partner Janette agrees.
"We want to go all the way. You just want to stay in and do as many dances as you can."
As for HRVY: "We're halfway, lets get through and keep going. I'd love to get to the final, it'd be so cool."