Green entrepreneurs: Coffee for your face, bees for your booze
By Lindsay Brown
Newsbeat reporter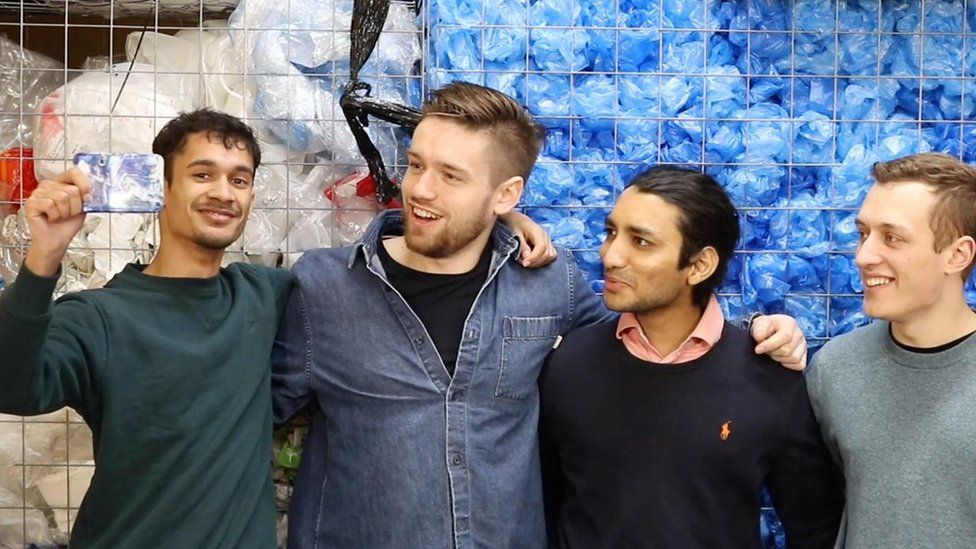 Making money and saving the planet don't always go hand in hand. But slowly, things are changing.
As we all become more aware about the crisis facing the environment, more young people are turning their green ideas into successful businesses.
They're giving £1m to the best ones.
Newsbeat's been speaking to young green entrepreneurs about how they've created their own eco-businesses.
From coffee grounds to skincare products
Anna Brightman, 27, and her brother William, 29, use old coffee grounds to make skincare products.
The idea popped into Anna's head when she was sat in her local coffee shop and wondered where all the coffee waste went. The café owner told her it was sent to landfill.
"At landfill, it rots and produces methane, so coffee actually has this negative environmental impact," Anna tells Newsbeat.
After a bit more investigation, she realised coffee had skincare benefits.
She asked the coffee shop if she could have the coffee grounds instead and started making skincare scrubs.
Anna took them to a coffee festival and sold out on the first day - their brand Upcircle Beauty was born.
"I wanted to start a brand that had a positive impact and a purpose beyond profit," Anna says.
"We've since started repurposing ground fruit stones - things like olive stones which we use in a face mask, apricot stones - and even argon shells - which are a by product of the argon oil industry."
The packaging is 99% plastic free and their marketing materials are all recycled too.
"My advice to someone to starting an eco brand is not to be afraid of taking the step and attempting things that other people haven't before.
"It's important you stand out from the crowd - so think about what's the next thing to be more sustainable?"
Plastic waste to power phones
Rishi Gupta, 23, spotted a business opportunity on Instagram when he saw a design of a portable phone charger made out of recycled plastic.
He contacted the designer and after getting a grant, they were able to make the product.
They take plastic from sites around Brighton - things like parts of fridges, slippers and plastic bags to make the chargers.
Rishi wanted to start an eco business after realising many 'green' products weren't actually very environmental at all.
"Things like bamboo, sometimes aren't sustainable or are covered in plastic," he says.
"The biggest motivation for me is having a purpose and I feel like I'm helping to reduce consumer's impact and provide options in terms of eco products," he tells Newsbeat.
"I want to create eco products for mainstream users - because to have an impact on the environment - everyone need needs to do something."
We all know bees are important to the environment but for Kit and Matt Newell - they're vital for business.
The brothers have 150 hives in Chepstow, south Wales, which produce honey which is then fermented and turned into mead.
"Our business relies on the survival of these bees - without them we have no business at all," Matt, 31, tells Newsbeat.
"We put in a lot of effort looking after them as best as we can and help highlight the importance of nature, biodiversity and sustainability.
"The inspiration for doing this came from conservation towards the local area.
"We like the fact that keeping bees helps the local environment, because the bees contribute by pollinating flowers and trees locally."
Matt says it's also been important to help provide local people with jobs in Chepstow.
And he has a few words of wisdom to anyone who wants a crack at the green market.
"Be ready to fail but don't get downhearted. If it does fail though - pivot, be flexible and be positive - and be able to change it really quick.
"Play to your strengths."
Sisters Laura and Rachel Beattie from Manchester are co-founders of sustainable women's clothing brand Careuax.
"Our nana was a dress maker and she taught us how important it was to use every bit of fabric," Laura tells Newsbeat.
"The fashion industry is one of the most polluting industries," Laura tells Newsbeat.
"We wanted to innovate dresses as we knew them in order to create a more sustainable and inclusive fashion industry."
The dress they created has a series of zips which can be turned into a top and skirt, so you can mix and match different styles and colour combinations.
The sisters say they make they dresses out of "end of roll" fabrics which would normally go straight to landfill.
The factory they use runs off solar panels.
When it comes to starting an eco brand, Rachel says "no idea is too big".
"Everybody can make a difference.
"We can all have a positive impact on people, planet and animals."