Ru Paul's Drag Race: Sherry Pie disqualified after catfishing allegations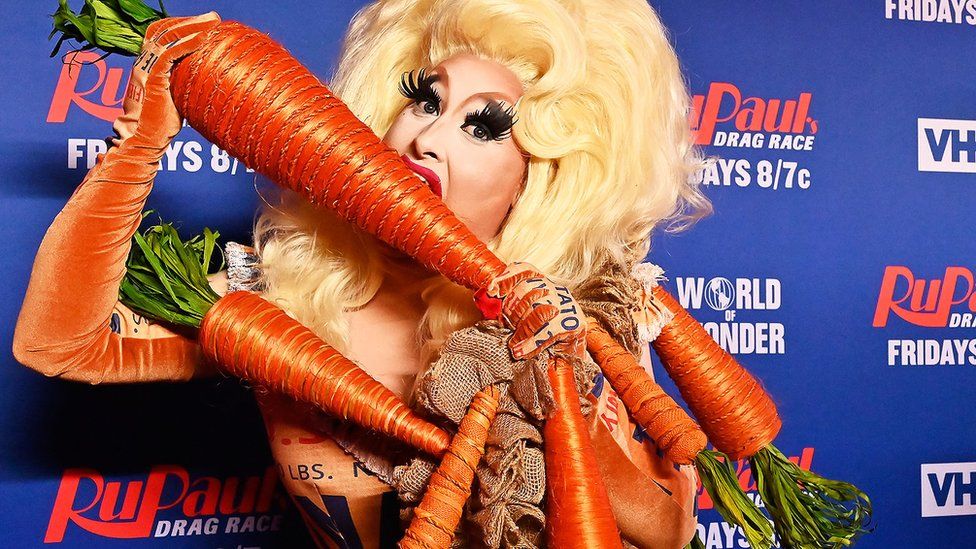 A contestant on RuPaul's Drag Race USA has been disqualified after being accused of catfishing.
Five young actors say that Joey Gugliemelli, known by his drag persona Sherry Pie, asked them to do embarrassing things on camera.
Gugliemelli is alleged to have posed as a casting director. One of the young men recorded himself doing a sex act.
The new season of Drag Race will air as planned but Gugliemelli will not appear in the final, yet to be filmed.
...Out of respect for the hard work of the other queens, VH1 will air the season as planned.
Sherry will not appear in the grand finale scheduled to be filmed later this spring." – spokesperson for VH1 and World of Wonder

— RuPaul's Drag Race (@RuPaulsDragRace) March 6, 2020
Catfishing is when someone pretends to be another person online.
In a Facebook post before he was disqualified Gugliemelli admitted making a mistake, saying he's "embarrassed and disgusted" with himself.
"I want to start by saying how sorry I am that I caused such trauma and pain," Gugliemelli wrote.
"I know that the pain and hurt that I have caused will never go away and I know that what I did was wrong and truly cruel."
Gugliemelli also apologised to the cast and crew of this season's Drag Race.
He still made his debut on the show on Friday, in the second part of the season 12 premiere, as it's all pre-recorded except for the final.
A spokesperson for Drag Race says the new season is going ahead as planned "out of respect for the hard work of the other queens".
The allegations against Gugliemelli first surfaced on Thursday after a man who says he knows him posted a lengthy Facebook status describing how he was asked to film scenes that were "particularly sexual and awkward".
Ben Shimkus said at the time he believed he was filming an audition for a new New York play for a woman named Allison Mossey, who it later turned out wasn't real.
Ben talks about studying musical theatre with Sherry Pie - saying he wants more people to know more about the affect catfishing can have.
"Although Sherry's drag may be admired by our community, I hope that our community also recognises the impact of giving her a bigger stage to broadcast from."
One man, 26-year-old David Newman, told BuzzFeed he filmed himself in a tank top and shorts for Gugliemelli, believing he was trying out for a part in a musical.
Another man said he had agreed to perform a sex act on camera as part of an audition process.
Gugliemelli added that he's getting help with mental health difficulties.
"All I can do is change the behaviour and that starts with me and doing that work," he said.
This article was originally published on 6 March 2020.