Football team for grieving dads wins top award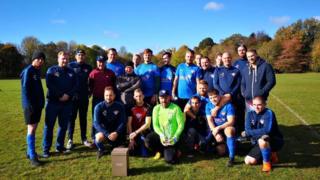 When Rob Allen set up Sands United for dads who have lost children to stillbirth or miscarriage, he had no idea what a huge impact it would have.
Just months after their first match - and over a year since Rob lost his baby girl - this group of bereaved fathers in Northampton have won team of the year at the Pride of Sport Awards.
The team are also in talks with the charity they're named after, Sands, about rolling out similar clubs across the country.
"It was never about awards or accolades," Rob, 32, told Radio 1 Newsbeat. "It was just to get guys together.
"But by creating this team, people are now seeing that there's such a big void out there in terms of support for men who've suffered baby loss. And they're thinking - I can't believe nobody's thought of that."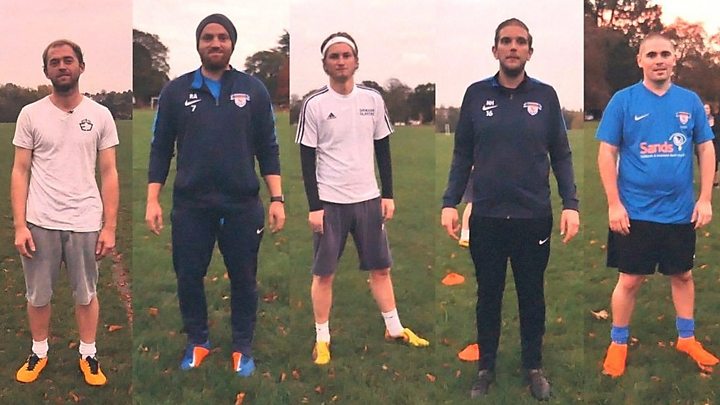 Rob and his wife Charlotte lost their baby girl, Niamh in October 2017, just four days before she was due to be born.
He was a member of the local team Eastern Eagles, but after their loss he says he "didn't have the right headspace" for football.
When his manager suggested a charity match to raise money for Sands, and booked the local 3,000-seater stadium, Sixfields, Rob brought together local men who'd been through a similar situation.
Now Sands United is made up of 30 men who have each lost a child, either their own or a family member, in the past.
Around 1 in every 200 births in England are stillborn, according to the NHS - when a baby is born dead after 24 weeks of pregnancy.
First and foremost, the team is about the football and that's what they spend most of the time talking about, says Rob.
But the aim is to create the environment to allow the players to open up when they need to. The players have a Whatsapp group and when something triggers a memory, they have a network of men who understand what they're going through.
"You can find these triggers anywhere, and it's what you do when that happens," he told Newsbeat. "What we've got with the WhatsApp group, is that you can jump straight in and say, 'Lads this just happened. I'm sitting in my car and I'm halfway between crying my eyes out and bashing my car window in.'
"Without the team and without the guys, what would those people be doing? If you were on your own and you didn't have that opportunity, your brain can be a dangerous place."
Another player Oliver Earby, 27, who lost his daughter Minnie, said that going through the loss of a baby isn't something you can talk about with anyone. "Men don't talk about it down the pub," he said. "It's the last thing you do. But once you open up you realise you are not the only one going through it."
The Pride of Sport awards are backed by Sport England and are about "celebrating and recognising the unsung heroes of grassroots sport".
The ceremony on 6 December was hosted by Ben Shephard.
Rob and his teammates met everyone from England player Jamie Vardy to Zara Tindall MBE and got a shout out from BGT judge Amanda Holden, who has spoken out about losing her baby.
The team had to take a bit of ribbing about how many goals they'd let in this season, but there was a silver lining: Former England goalkeeper David Seaman presented Sands United with their award and offered to come and give them a few tips.
"We're waiting to see if that comes off," said Rob, "because that would be amazing."
Follow Newsbeat on Instagram, Facebook and Twitter.
Listen to Newsbeat live at 12:45 and 17:45 every weekday on BBC Radio 1 and 1Xtra - if you miss us you can listen back here.