Love Island: How we made our love last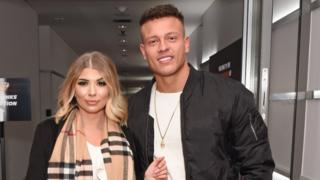 Olivia Buckland and Alex Bowen were runners up in the 2016 series of Love Island.
But when it comes to real love, they've lucked out.
In September this year, two years after they met, they became the first couple who got together on the reality TV show to get married.
Their relationship is one of the few that have lasted after Love Island. This year's winners, Dani and Jack, announced last week that they were splitting up.
But Olivia, who changed her surname to Bowen after getting married, told Radio 1 Newsbeat that it hasn't always been easy.
Life after Love Island
In the early days when they were out in the real world, Alex's many club appearances were hard for his new girlfriend.
"It's not easy when every girl wants to have a picture with your boyfriend, but Alex would always message me when he got home and reassure me," she told Newsbeat.
"I had trust issues at the start of the relationship because I had been lied to in the past, but Alex built that trust back up."
She also had to put up with people commenting on their relationship: "I was told that I'm not good enough for Alex and that I'm punching."
But they were able to support each other as they experienced their new-found fame. Before they appeared on Love Island, Olivia was working as a sales representative and Alex was a scaffolder.
"It was a huge culture shock, but we helped each other through it," she said.
"You're going from an environment that isn't natural at all and then you're out in the world and everyone knows who you are... From that point of view I can see why couples don't go the distance because our lives changed massively once we left."
'Remember to make sure you're happy'
As well as making a success of their relationship, between them Alex and Olivia also have a clothing line and TV show.
They spend so much time together that she's "surprised I don't want to strangle him the whole time".
But she says her priority is making sure that she's happy and not just staying together because of the media scrutiny.
"Some Love Island couples feel like they have to stay together but you have to remember to make sure you're happy because you're never in this industry going to make everyone happy," she told Newsbeat.
"I don't mind that people are invested, mostly people want the best for you."
And have things changed after getting married? Apparently not. Olivia says she doesn't feel any different.
But she still can't believe how her life has turned out.
"I went on the show hating men," she says, "and I never thought I would meet someone I'd want to spend the rest of my life with."
Follow Newsbeat on Instagram, Facebook and Twitter.
Listen to Newsbeat live at 12:45 and 17:45 every weekday on BBC Radio 1 and 1Xtra - if you miss us you can listen back here.