I'm a Celebrity: Nick Knowles' kids love dad's budgie smugglers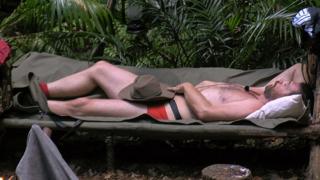 Nick Knowles has, for many, been the unexpected star of this year's I'm a Celebrity... Get Me Out of Here!
He's spent his time in the jungle walking round in a pair of rather revealing red pants, endlessly playing the guitar - and bizarrely claiming the moon landings were faked.
All things you might expect his kids to find pretty cringey - but sons TJ and Charles have told Newsbeat he's "doing them proud".
And, contrary to what you might expect - they especially love those now-infamous budgie smugglers.
"Who knows where he got them from, I think he picked them up on his way into the jungle," TJ laughs. "When he left he never had them!"
Charles is equally confused.
"We're loving the budgie smugglers - shout out to them. They're going through some serious stuff right now.
"We didn't see him packing them. But dad's just one of those people - he's proud about it, he loves it."
The DIY SOS host has also raised eyebrows by controversially claiming no human "has ever landed on the moon".
But his sons are behind him on that too - well, sort of.
"The moon thing was hilarious to me," Charles says, "me and dad both do this thing where we like throwing a bit of a curve ball out there.
"It's not that we actually believe it ourselves, but if you throw a controversial subject out and then just let anarchy take over it's actually hilarious to watch."
As well as being a TV presenter, Nick is also a musician and put out his debut album last year.
It's been a big talking point on the show - so much so that a campaign was launched to push his version of the song To Make You Feel My Love to the top of the iTunes chart.
And it worked.
"He's an unbelievable guitarist," Charles says. "We're all taken aback by it. It's a bit crazy.
"We're very shocked but we're feeling the love and so is dad right now - so shout out to anyone who did buy it."
But despite all the success, Charles admits he didn't actually want his dad to go on the show.
"Dad is a gentleman but when you put yourself on a platform that is viewed by so many, and you're just yourself, no matter how much of a gentleman you are you're always going to get negative feedback.
"As a family we're strong enough to deal with it, but it's never nice to see someone say something about your dad.
"I'm very close with dad and protective about him - but we're getting used to it and we're getting a lot of love."
Follow Newsbeat on Instagram, Facebook and Twitter.
Listen to Newsbeat live at 12:45 and 17:45 every weekday on BBC Radio 1 and 1Xtra - if you miss us you can listen back here.