The Irish border and Brexit explained by @BorderIrish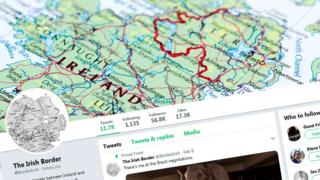 The 310 mile border cutting through Ireland currently separates the Republic from Northern Ireland.
After Brexit, it will be the only land border separating the UK from the EU.
But it's also the only border in the world (as far as we know) to have its very own Twitter handle.
@BorderIrish arrived on the social media platform in February and has been trolling the Brexit negotiations ever since.
The account has over 55,000 followers, including the Irish Prime Minister Leo Varadkar and has even published its own satirical Penguin children's book.
The man behind the account, who wants to remain anonymous, has lived on both sides of the border.
He told Radio 1 Newsbeat that he wanted to inject a bit of humour into Brexit, as well as some much needed facts.
So who better to ask about the history of the border, the backstop and why it's become Theresa May's biggest Brexit headache:
Sorry to ask… but how old are you?
I'm about 97 years old.
I was meant to be temporary when I was invented, but I've been here ever since the Irish Free State and Northern Ireland were established.
I keep them apart, but kind of hold them together too.
So why are we hearing so much about you now?
I've almost disappeared over the years, but now the UK is trying to leave the EU, I'll be the UK's only land border with the EU.
This is very exciting for me, obviously, and involves a lot of time on Duolingo learning Estonian.
But it's also a bit disruptive politically, because it means I might have to be a harder border than I am now.
A hard border - sounds like your teenage years...
In my early years I was hard because I had customs posts. There were men in uniforms holding up their hands and stopping cars and searching them for food.
Then when the Troubles came in the 1970s, the men in uniform were soldiers and I had heavy checkpoints and army watchtowers.
But now you're soft in your old age?
Slowly, in the 1990s, the Peace Process happened.
When the Good Friday Agreement was signed in 1998 I was able to soften because the violence faded away - mostly.
And being in the EU, along with the Common Travel Area, meant there wasn't much need for any checks on people or things crossing over me.
Now I may be an international border, but I'm so invisible that sometimes I take a day off and no-one notices I'm not there.
Tell us about your new best friend, the backstop?
When Brexit came along and the British government decided it was going to leave the single market and the customs unions the politicians ran around like mad trying to find a way to keep me as I am.
The backstop is like an insurance policy which means that I can't be messed around with.
Not everyone likes it. I didn't want it, but I'd rather have it than not have it.
Theresa May says she wants you to be "smart" in future. Did that hurt your feelings?
That's quite insulting really, isn't it?
I've managed to be here and yet be invisible for 20 years.
And by doing that I've helped keep the peace in Northern Ireland and Ireland.
That's more than smart - that's a miracle.
Follow Newsbeat on Instagram, Facebook and Twitter.
Listen to Newsbeat live at 12:45 and 17:45 every weekday on BBC Radio 1 and 1Xtra - if you miss us you can listen back here.