'Ted Baker boss made us hug and slow dance'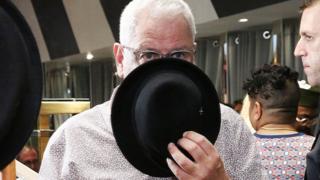 "When you had to hug him, it wasn't like a hug and kiss you might do in another professional setting."
Becky, not her real name, was an employee at Ted Baker and claims to have first-hand experience of harassment at the fashion brand's HQ.
More than 200 members of Ted Baker staff have signed a petition against the alleged practices of Ted Baker's founder Ray Kelvin, according to workplace campaign website Organise, complaining about inappropriate behaviour towards both male and female members of staff.
The firm says it is taking allegations "very seriously" and a "thorough independent investigation" will be conducted.
The company previously called hugs "part of Ted Baker's culture" and said Mr Kelvin greeted many people with a hug, "be it a shareholder, investor, supplier, partner, customer or colleague".
"It was very much like a drawn out, long, awkward hug which was kind of very personal and intense body contact with him," Becky tells Radio 1 Newsbeat.
She says the hugs would last for up to 15 seconds, and be in full view of other staff members.
The allegations have hit the business hard, with its share price - how much the company is worth - falling to a three-year low on Tuesday.
Staff 'ran to the other side' of the room
Becky says that on one occasion, Mr Kelvin was "making" staff members "slow dance" with him at their desks to a playlist he had created.
"The girl next to me crawled under the desk and ran out the other side to get away from him," she says.
"If I heard his voice, and I know a lot of my colleagues would as well, you'd kind of go in the other direction.
"Quite often people would avoid going certain ways in the office if you knew he was there, try and avoid him at all costs really."
Becky claims she was once sitting near a male colleague when Mr Kelvin "came up behind him, hugged him from behind, was complimenting his biceps and kissed his kind of ear and neck area".
She adds: "So I don't think it's just purely targeting young women."
Becky claims this behaviour was carried out in front of bosses at Ted Baker, but that they took no action to support staff affected.
"I just kind of thought, why aren't you stepping in and telling him to stop this?" Becky says.
"It was an open plan office. Everything that happened in the office was very visible to senior managers."
She also claims Mr Kelvin told staff they should "have more sex with each other" and that all his actions were done in a "very jokey, tongue-in-cheek way".
"He wants to kind of spark controversy and shock," she says.
Ted Baker is investigating the claims
Ted Baker said: "We have always placed great importance on our culture. It is critically important to us that every member of our staff feels valued and respected at work.
"We do not believe these allegations are reflective of the organisation we have all worked hard to develop over the last 30 years.
"We are though taking them very seriously and the Non-Executive Directors have commissioned an urgent independent and thorough review.
"This will be carried by a leading law firm and the Non-Executive Committee will carefully consider the content and recommendations of that review."
In an interview with Marketing Week in 2016, Kelvin joked "don't report me for sexual harassment," after hugging a male reporter for over a minute.
Newsbeat has been told that Mr Kelvin won't be making a comment at this stage.
Follow Newsbeat on Instagram, Facebook and Twitter.
Listen to Newsbeat live at 12:45 and 17:45 every weekday on BBC Radio 1 and 1Xtra - if you miss us you can listen back here.