Brexit deal: The MP who doesn't know which way to vote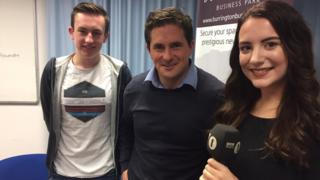 A Conservative MP says he has "no idea" which way he's going to vote on the prime minister's Brexit deal.
Johnny Mercer, the MP for Plymouth Moor View, told Radio 1 Newsbeat that MPs have been put in a "really difficult position".
He voted to remain in the EU in the 2016 referendum - around 60% of people in Plymouth voted to leave.
MPs will decide on whether to accept the deal Theresa May has negotiated with the EU in a vote on 11 December.
Mr Mercer, a former army officer, tells Radio 1 Newsbeat: "I'm not particularly happy that we've got a vote at this stage. There is a lot to consider.
"At the moment, if I am honest, I have no idea how I'll vote."
Newsbeat brought two local people, both in favour of leaving the EU, to meet Mr Mercer in Plymouth, to persuade him how to vote.
So what's the Brexit deal?
It's the deal which sets out the divorce arrangements between the UK and the EU.
The EU gets about £39bn from the UK to see out financial commitments we've already made.
In return, the UK has a transition period - where most things stay the same as they are right now.
This would give Britain and the EU a chance to strike a trade deal and to give businesses the time to adjust.
The main problem many MPs have with the deal is something called the backstop - which kicks in if the UK doesn't sign a future trade deal with the EU.
This would mean Northern Ireland has to follow some EU rules in order to stop there being a physical border with the Republic of Ireland.
What happens if MPs vote yes?
Then on 29 March 2019 the UK leaves the EU, relatively smoothly, as little changes.
Some Leave campaigners reckon this leaves the UK too closely tied to decisions made by the EU, without having any say whatsoever in future decisions.
Sam Cade, 17, wants Mr Mercer to back the prime minister's deal.
He tells his MP the UK needs to get on with it and voting for the deal is for the best as "going back to the EU for another deal just wouldn't work".
He's also worried about not getting a deal as there have been "forecasts about what a no-deal looks like".
His main concern about Brexit is the impact it will have on the economy and any tariffs brought in on UK goods by the EU.
Mr Mercer tells Sam: "They are not forecasts but scenarios and a lot of those were worst case scenarios."
What happens if MPs vote no?
This looks most likely.
According to Theresa May it means "no deal or no Brexit".
No-one can really say exactly what will happen next - but there are a few scenarios:
The UK leaves the EU without a deal
The PM has another vote in Parliament on her deal
There's another EU referendum
There could be a general election
Theresa May is removed by her own MPs and a new leader tries to renegotiate a deal with the EU
Amelia Hamlyn, 20, wants Mr Mercer to reject the deal.
She thinks "it's too much on the EU's terms and the UK needs to have more of a say" if we are going to follow EU rules.
Johnny Mercer says: "I think we are being given a slightly false choice.
"People are saying you have no deal or the prime minister's Brexit. I don't really accept that.
"I don't think the British people react very well when they're told 'Do this - or else'."
So how do you convince your MP to vote a certain way?
Pretty simply... get an appointment with them in their surgeries which usually take place on a Friday or a Saturday.
This is what Sam and Amelia did.
You can find your MP here and email their office your concerns.
It's possible you may have to go through some security checks done in light of recent increased threats made to MPs.
Follow Newsbeat on Instagram, Facebook and Twitter.
Listen to Newsbeat live at 12:45 and 17:45 every weekday on BBC Radio 1 and 1Xtra - if you miss us you can listen back here.