How did Skai Jackson's image end up in a south London chicken shop?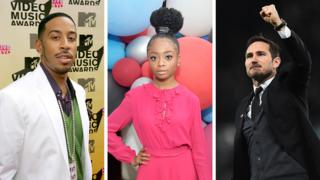 Of all the things you might associate with your favourite celebrities... your local fried chicken shop might not be top of the list.
Actress Skai Jackson, 16, is best known for her parts in Disney shows and family movies.
But her image also had a starring role on the wall of a south London chicken franchise called Morley's.
The actor was unaware her image was being used by the franchise until someone tweeted it.
She isn't the first celebrity to have their photo used for something without their consent - and she probably won't be the last.
Frank Lampard's New York ad
Remember the time when a photoshopped image of Frank Lampard was used to promote a new park in Brooklyn, New York?
The New York Governor Andrew Cuomo tweeted out a series of images of what the proposed park would look like.
But eagle-eyed football fans noticed that one of the pictures featured the ex-Chelsea player going for a run.
The only thing was he'd taken that run back in 2015 in Central Park, New York three years before.
Ludacris' fresh trim
One celebrity who has quite a bit of experience in this field is Illinois-raised rapper, Ludacris.
As well as being well respected in the US Hip Hop scene, it looks like he's admired in the hair industry too.
It's not just UK barbers that love the trim though, Ludacris has been all around the world.
To be honest, can you really trust your barber if they don't have Ludacris' infamous haircut promoting their shop?
Skai Jackson, Lampard and Ludacris are just a few of the celebrities who've ended up advertising something a little different.
Denzel Washington ended up in an advert for an estate agency.
Beyonce has appeared on a loaf of bread.
But how do businesses get away with it?
Celebrities can sue for the misuse of their images.
"A couple of years ago, Rihanna sued Topshop," says intellectual property solicitor, Jonathan Hassall.
He was referring to a case that Rihanna had won against the retailer claiming it was using an unauthorised image that was damaging to her reputation.
"The exact same applies for Skai. It could be a misrepresentation of Skai," says Jonathan Hassall.
"Skai might say Morley's image is so demeaning that she feels her reputation will suffer.
"She might not want to endorse a chicken shop in south London."
Since the original tweet went viral, Morley's appears to have covered up the image of Skai.
Newsbeat has contacted Morley's for a response.
Follow Newsbeat on Instagram, Facebook and Twitter.
Listen to Newsbeat live at 12:45 and 17:45 every weekday on BBC Radio 1 and 1Xtra - if you miss us you can listen back here.