I'm A Celeb's Anne Hegerty opens up about Asperger's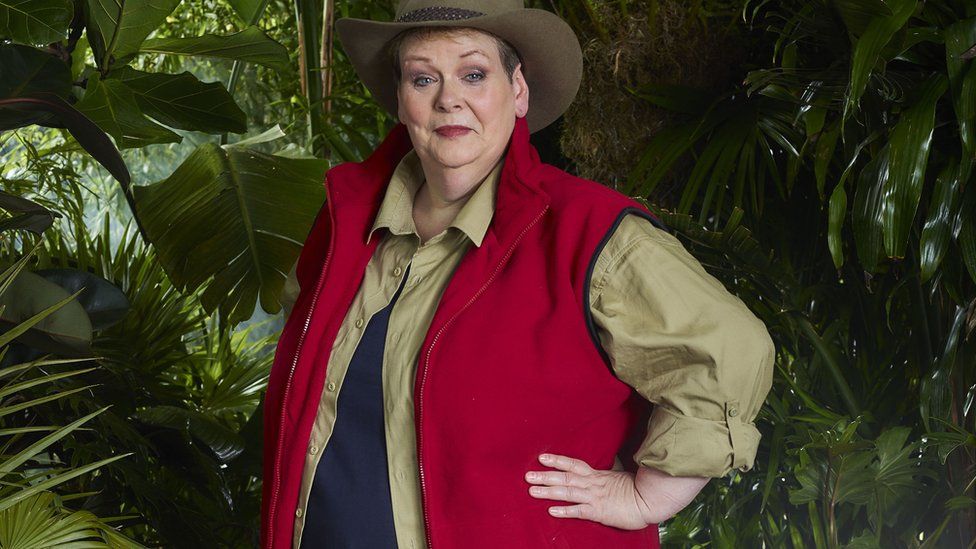 Anne Hegerty has been praised for opening up about her Asperger's on I'm A Celebrity Get Me Out of Here.
Fans watched her speak about her condition with former EastEnders actress Rita Simons.
"I didn't raise the autism issue. It's not like: 'I want you to know I have this interesting disability that you have to accommodate'," Anne explained.
"If someone else raises it then I make it quite clear that I'm happy to talk about it."
Anne - best known for her role on The Chase as The Governess - revealed she didn't get diagnosed until she was 45 in 2003.
Eleven-year-old Joseph is one of the people who's been inspired by Anne.
"Watching you makes me see that other people can have autism too and maybe I can have a cool job like you when I am older," he wrote in letter posted to Twitter.
Anne opening up about her Aspergers on #ImACeleb is spreading awareness and it makes me so happy reading positive comments about autism for once! Most people have heard of it but don't actually know anything about it. Thank you @anne_hegerty 💜

— Bernice (@bernicegc) November 20, 2018
According to the NHS, Autism spectrum disorder (ASD) is the name for a range of similar conditions, including Asperger syndrome, that affect a person's social interaction, communication, interests and behaviour.
People with ASD tend to have problems with social interaction and communication.
On Sunday's launch show Anne was upset and told her fellow celebrity contestants: "I'm just really, really close to saying I can't do this."
In footage filmed before entering the jungle she said: "I've had to learn a lot about what I can and can't do and what I can and can't cope with."
Along with Rita, X Factor runner up Fleur East and The Vamps singer James McVey, Anne lost a task so is living in a the basic-rations part of the camp sleeping on mats on the ground.
She explained to campmates she has to fully imagine herself completing a task before she actually does it or else it can throw her off.
What @anne_hegerty is doing for people with #Autism, myself included, is truly revolutionary. I'm not even sure she's aware of how much her visibility is helping others.

— Melissa (@banditomel) November 20, 2018
@anne_hegerty think you are an amazing person for doing what you have and highlighting how people with autism have different needs and are the most unique people in their own ways! My daughter for 1 is unique and we hope to see you crowned queen of the jungle ! X

— Krystle F (@scarface241) November 20, 2018
"I really appreciate how nice and sympathetic they've been to me," Anne told the cameras away from Rita.
"It was nice that they said I pick up on social cues because I'm never quite sure that I entirely do. I just get overwhelmed with all the things there are to do."
The discussion with Anne led to Rita revealing she has an obsessive compulsive disorder (OCD) diagnosis.
"I used to be a real light switcher, tap checker. I'd spend hours doing it. It's almost the complete opposite of you because yours is all logical and mine is all illogical," Rita said.
'I come across as bubbly but prefer being alone'
Niall Aslam quit this year's Love Island for unknown "personal reasons". He later revealed in a lengthy post he had been diagnosed with Asperger's as a child.
"I've always been kind of a bit embarrassed about having Asperger's and it's quite a private thing for myself so I wasn't going to go up to all the girls that I was trying to chat to and be like 'oh by the way, I have Asperger's'.
"I'm alright with maintaining friendships - I just get a lot of social anxiety, I can come across as quite bubbly but a lot of the time I just prefer being by myself instead of around people."
"A lot of people don't want to say they have it because a lot of people aren't very educated on it so seeing someone like Anne saying it does a lot for the cause".
Viewers can expect to see Anne in the thick of the action again tonight as she takes on the latest bushtucker trial.