The Game Awards 2018: God of War and Red Dead dominate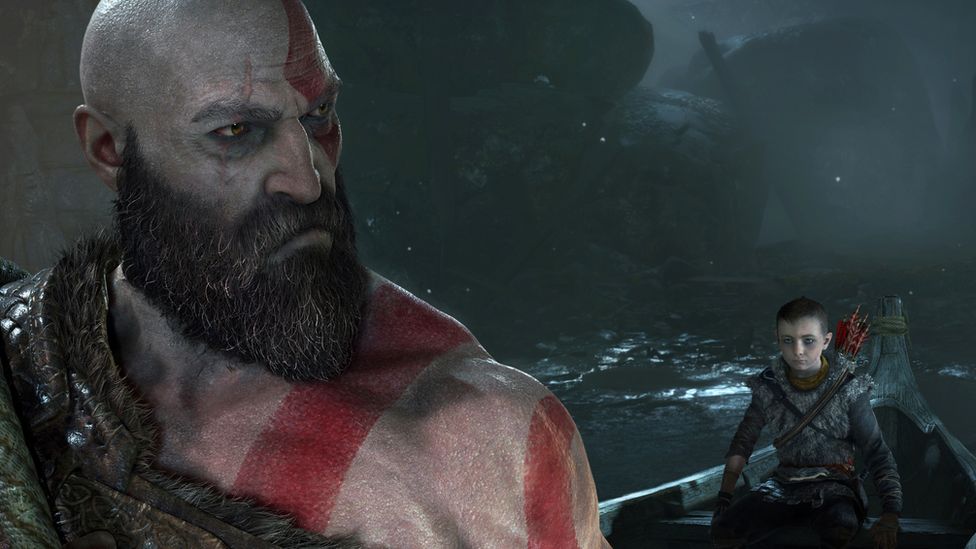 The Christmas countdown clock is ticking, and you might be wondering what games to ask for in your stocking.
With so many launching every month, it can be tricky to pick out the must-plays.
The Game Awards recognises the best games released every year, and has announced the full list of nominees.
Perhaps unsurprisingly Red Dead Redemption II and God of War lead the pack, with eight nominations each.
Both were nominated for the highest prize, Game of the Year, alongside Assassin's Creed Odyssey, Celeste, Marvel's Spider-Man and Monster Hunter: World.
Despite only being in their fifth year, The Game Awards are often cited as "The Oscars of Gaming" - but with one key twist.
The glitzy, star-studded show is always peppered with trailers for the biggest unreleased games, so it's a night to congratulate recent successes while looking forward to future ones.
Another distinctive element is The Game Awards' fan vote system. The final winners of each category are chosen by a blended vote between a jury of games industry professionals (90%), and the public (10%).
While there are some predictable nominees in this year's line-up, YouTube producer and games critic Louise Blain believes some unexpected patterns emerged.
"What's really refreshing to see is that the majority of the game of the year awards are huge single player experiences," she tells Newsbeat.
"With all the discussion over the last few years of the future of games being depressingly described as an ongoing 'service', the success of games like Assassin's Creed Odyssey and God of War shows that there's still an absolute love for brilliant single player games."
Games as a service (GaaS) is industry jargon referring to how players are encouraged to spend more money through a steady drip feed of new in-game content.
"There's no denying the power of Fortnite, which is nominated elsewhere, but single player games aren't going anywhere."
You can read the full list of nominees across 23 categories below.
Assassin's Creed Odyssey (Ubisoft Quebec / Ubisoft)
Celeste (Matt Makes Games)
God of War (Sony Santa Monica / SIE)
Marvel's Spider-Man (Insomniac Games / SIE)
Monster Hunter: World (Capcom)
Red Dead Redemption 2 (Rockstar Games)
Destiny 2 (Bungie / Activision)
No Man's Sky (Hello Games)
Tom Clancy's Rainbow Six Siege (Ubisoft Montreal / Ubisoft)
A Way Out (Hazelight Studios / EA)
Detroit: Become Human (Quantic Dream / SIE)
God of War (Sony Santa Monica / SIE)
Marvel's Spider-Man (Insomniac Games / SIE)
Red Dead Redemption 2 (Rockstar Games)
Detroit: Become Human (Quantic Dream / SIE)
God of War (Sony Santa Monica / SIE)
Life is Strange 2: Episode 1 (Dontnod Entertainment / Square Enix)
Marvel's Spider-Man (Insomniac Games / SIE)
Red Dead Redemption 2 (Rockstar Games)
Assassin's Creed Odyssey (Ubisoft Quebec / Ubisoft)
God of War (Sony Santa Monica / SIE)
Octopath Traveler (Square Enix / Acquire / Nintendo)
Red Dead Redemption 2 (Rockstar Games)
Return of Obra Din (3909 LLC)
God of War (Bear McCreary)
Marvel's Spider-Man (John Paesano)
Ni No Kuni 2: Revenant Kingdom (Joe Hisaishi)
Octopath Traveler (Yasunori Nishiki)
Red Dead Redemption 2 (Woody Jackson)
Call of Duty: Black Ops 4 (Treyarch Studios / Activision)
Forza Horizon 4 (Playground Games / Turn 10 Studios / Microsoft Studios)
God of War (Sony Santa Monica / SIE)
Marvel's Spider-Man (Insomniac Games / SIE)
Red Dead Redemption 2 (Rockstar Games)
Bryan Dechart as Connor, Detroit: Become Human
Christopher Judge as Kratos, God of War
Melissanthi Mahut as Kassandra, Assassin's Creed Odyssey
Roger Clark as Arthur Morgan, Red Dead Redemption 2
Yuri Lowenthal as Peter Parker, Marvel's Spider-Man
11-11 Memories Retold (Digixart / Aardman Animations / Bandai Namco Entertainment)
Celeste (Matt Makes Games)
Florence (Mountains / Annapurna Interactive)
Life is Strange 2: Episode 1 (Dontnod Entertainment / Square Enix)
The Missing: JJ Macfield and the Island of Memories (White Owls / Arc System Works)
Celeste (Matt Makes Games)
Into the Breach (Subset Games)
Return of the Obra Dinn (3909 LLC)
The Messenger (Sabotage Studio)
Donut County (Ben Esposito / Annapurna Interactive)
Florence (Mountains / Annapurna Interactive)
PUBG Mobile (Lightspeed & Quantum / Tencent Games)
Reigns: Game of Thrones (Nerial / Developer Digital)
Astro Bot Rescue Mission (SIE Japan Studio / SIE)
Firewall Zero Hour (First Contact Entertainment / SIE)
Tetris Effect (Resonair / Enhance, Inc)
Call of Duty: Black Ops 4 (Treyarch / Activision)
Destiny 2: Forsaken (Bungie / Activision)
Far Cry 5 (Ubisoft Montreal / Ubisoft)
Assassin's Creed Odyssey (Ubisoft Quebec / Ubisoft)
God of War (Sony Santa Monica / SIE)
Marvel's Spider-Man (Insomniac Games / SIE)
Red Dead Redemption 2 (Rockstar Games)
Shadow of the Tomb Raider (Eidos Montreal / Crystal Dynamics / Square Enix)
Dragon Quest 11: Echoes of an Elusive Age (Square Enix / Square Enix)
Monster Hunter: World (Capcom)
Ni no Kuni 2: Revenant Kingdom (Level 5 / Bandai Namco Entertainment)
Octopath Traveler (Square Enix / Acquire / Nintendo)
Pillars of Eternity II: Deadfire (Obsidian Entertainment / Versus Evil)
BlazBlue: Cross Tag Battle (Arc System Works)
Dragon Ball FighterZ (Arc System Works / Bandai Namco Entertainment)
Soulcalibur 6 (Bandai Namco Studios / Bandai Namco Entertainment)
Street Fighter 5 Arcade (Dimps / Capcom)
Mario Tennis Aces (Camelot Software Planning / Nintendo)
Nintendo Labo (Nintendo EPD / Nintendo)
Overcooked 2 (Ghost Town Games / Team 17)
Starlink: Battle for Atlas (Ubisoft Toronto / Ubisoft)
Super Mario Party (NDCube / Nintendo)
Battletech (Harebrained Schemes / Paradox Interactive)
Frostpunk (11 bit studios)
Into the Breach (Subset Games)
The Banner Saga 3 (Stoic Studio / Versus Evil)
Valkyria Chronicles 4 (Sega CS3 / Sega)
FIFA 19 (EA Vancouver / EA Sports)
Forza Horizon 4 (Playground Games / Turn 10 Studios / Microsoft Studios)
Mario Tennis Aces (Camelot Software Planning / Nintendo)
NBA 2K19 (Visual Concepts / 2K Sports)
Pro Evolution Soccer 2019 (PES Productions / Konami)
Call of Duty: Black Ops 4 (Treyarch / Activision)
Destiny 2: Forsaken (Bungie / Activision)
Monster Hunter: World (Capcom)
Sea of Thieves (Rare / Microsoft Studios)
Combat 2018 (Inland Norway University of Applied Sciences - Norway)
Dash Quasar (UC Santa Cruz)
JERA (Digipen Bilbao, Spain)
LIFF (ISTART Digital - France)
Donut County (Ben Esposito / Annapurna Interactive)
Florence (Mountains / Annapurna Interactive)
The Messenger (Sabotage Studio)
Yoku's Island Express (Villa Gorilla)
Counter-Strike: Global Offensive
Dominique "SonicFox" McLean (Echo Fox)
Hajime "Tokido" Taniguchi
Jian "Uzi" Zi-Hao (Royal Never Give Up)
Oleksandr "s1mple" Kostyliev (Natus Vincere)
Sung-hyeon "JJoNak" Bang (New York Excelsior)
London Spitfire (Overwatch)
Bok "Reapered" Han-gyu (Cloud9)
Cristian "ppasarel" Bănăseanu (OG)
Danny "zonic" Sørensen (Astralis)
Jakob "YamatoCannon" Mebdi (Team Vitality)
Janko "YNk" Paunovic (MiBR)
ELEAGUE Major: Boston 2018
League of Legends World Championship
Overwatch League Grand Finals
Alex "Machine" Richardson
AndersBlume
Eefje "Sjokz" Depoortere
C9 Comeback Win In Triple OT vs FAZE (ELEAGUE)
KT vs IG Base Race (LOL Worlds)
G2 Beating RNG (LOL Worlds)
OG's Massive Upset of LGD (DOTA 2 Finals)
SonicFox Side Switch Against Go1 in DBZ (EVO)