The rock and metal music channel Scuzz TV switches off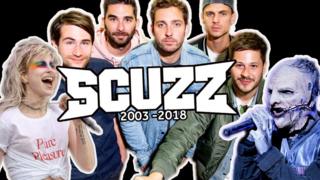 After 15 years on air, Scuzz TV is shutting down.
On Sky it had been a home to rock and heavy metal music since 2003, airing bands such as Korn, Slipknot and Enter Shikari.
It was the first UK music channel to ever show a video by You Me At Six and lead singer Josh Franceschi says it'll leave a "great legacy".
"Lots of bands in British rock and metal will look at Scuzz as the platform that many of their fans discovered them through," he tells Newsbeat.
"I remember seeing Jealous Minds Think Alike on Scuzz for the first time. To see your music video on TV, you'd made it to another level."
In a statement, Sony Pictures Television, which owns Scuzz TV, said: "After much consideration, the decision was made to close Scuzz on 15 November.
"We'd like to thank our loyal Scuzz viewers for their support over the years."
As well as You Me At Six, it was also the first UK music channel to air videos by Paramore, Avenged Sevenfold, Architects, PVRIS and Creeper.
Sony Pictures Television hasn't elaborated on the exact reason why it's shut Scuzz TV or released ratings figures.
The BBC understands the channel had a low weekly viewership.
The first music video to feature on Scuzz was Funeral For A Friend's song This Year's Most Open Heartbreak at a time when the band only had a four track EP to their name.
For many, the closure of Scuzz will bring back memories of discovering bands in the noughties, when YouTube was in its infancy.
"I used to sit there with my notebook and write down all the songs that I loved," says Scuzz TV fan Sarah-Jayne Sealy.
The 23-year-old from Cardiff says she took the batteries out of her TV controller so that her parents couldn't change the channel.
"I found out about Slipknot, Disturbed, Korn and Asking Alexandria through Scuzz."
The brand was a mainstay at events such as Download, Bloodstock and 2000 Trees and BBC Radio 1's Daniel P Carter was also the voice of the station for many years.
The closure of Scuzz follows Channel AKA as another example of a specialist music TV station coming off the air.
It also leaves Kerrang! as - arguably - the only TV channel dedicated to rock and metal after MTV Rocks was replaced on the schedule by VH1 Christmas.
Josh Franceschi thinks it's part of a growing trend, as people's viewing habits have changed so much in a short period of time.
"There was a point when a new music video premiered on Scuzz and you would tune in specifically at that time to watch it. That is redundant now."
However, Kerrang! TV's Abbie Pink says Scuzz shutting down doesn't mean this is another nail in the coffin of music television.
"We are sad to see it go. It's a fellow rock channel but music channels do still get 15 million viewers every month.
"It's not in massive decline as some people might assume. Kerrang! certainly isn't going anywhere."
Follow Newsbeat on Instagram, Facebook and Twitter.
Listen to Newsbeat live at 12:45 and 17:45 every weekday on BBC Radio 1 and 1Xtra - if you miss us you can listen back here.