Ezra Miller in Moncler: 'The silhouette, the drama. I'm obsessed'
By Michael Baggs
Newsbeat reporter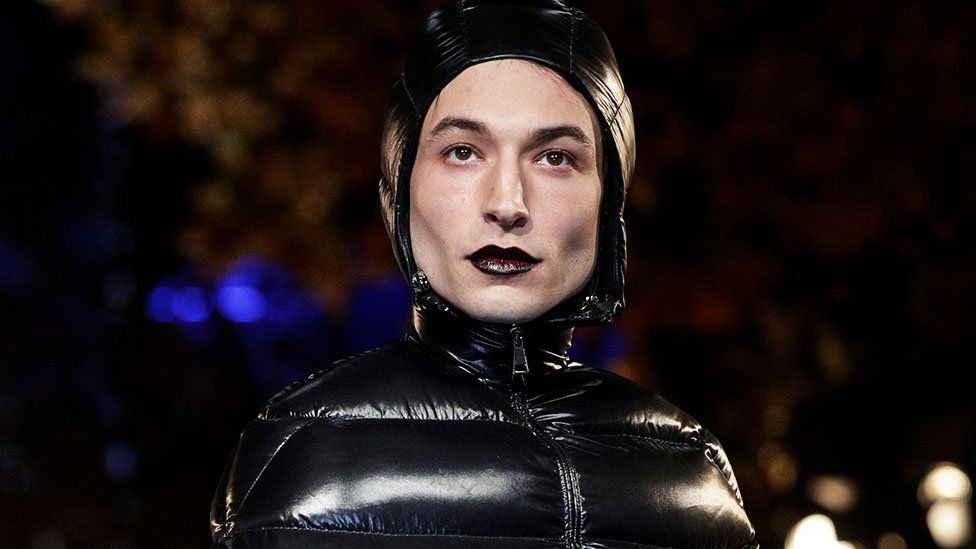 Ezra Miller stole the show at the Fantastic Beasts sequel's world premiere with his non-conforming, gender-bending red carpet look.
Some people described his outfit as a "sassy sleeping bag" but it was in fact a piece from Moncler's 2018 fall collection, designed by Pierpaolo Picciolo.
The actor was joined by co-stars Jude Law, Eddie Redmayne and Zoe Kravitz - plus writer JK Rowling - among others at the Paris event.
But all eyes were on Ezra.
"The silhouette, the drama. I'm obsessed," 24 year-old writer Otamere Guobadia tells Newsbeat.
"That gender non-conformity on someone so young, so celebrated and so unabashed, gorgeous and beautiful - you just don't get enough of that."
And there are many others who share Otamere's Ezra obsession.
Beyond obsessed with Ezra Miller's red carpet Moncler lewk.

— Maz / مریم (@Ms_Art_House) November 9, 2018
i have no care for the new fantastic beasts film but ezra miller's red carpet look is a mood

— kelly (@kelly_pxng) November 9, 2018
Like Ezra, Otamere is gender fluid in his fashion, and says the actor represents the "future" he wants for self-expression in the LGBT community.
"He is remarkable, he's comfortable with all pronouns," says Otamere.
"The fluidity and effortlessness is what really captivates me."
What Ezra wore is a long way from what the average man is wearing, but his non-conforming look is reflective of a shift towards more feminine looks in mainstream men's fashion.
'It's on the high-street'
Designer Stephen Skeete says people are "a lot more comfortable" trying new things in their fashion.
"And it's not just a case of a female wearing a male jumper now, it's both ways and things are getting really creative," the 24-year-old says.
Stephen launched his unisex fashion brand, Tress Clothing, in February 2018.
"It's not just avante-garde fashion, it's on the high-street. You're going to see a lot more risky pieces and a lot more design work."
Stephen says the shift towards more feminine looks in fashion are sure to influence the silhouette, fits and styles in his future collections.
Celebration instead of harassment
But Otamere says there is a big difference between Ezra expressing himself on the red carpet and people wearing clothes like the Moncler outfit in day to day life.
"That red carpet is an incredibly safe place to be," he says.
"But the reality is that if Ezra Miller was walking down the street like that and he wasn't Ezra, there would be a great deal of abuse and violence that goes hand-in-hand with looking like that.
"I want a world where that isn't the case and that instead of harassment we'd have more of the celebration we're seeing now."
Which is better: Moncler or Toadette?
This isn't the first time Ezra has made headlines with his fluid fashion sense.
He stole the show at San Diego Comic-Con earlier this year when he appeared dressed as under-appreciated Mario Kart racer Toadette.