Thierry Henry and other top players who struggled as managers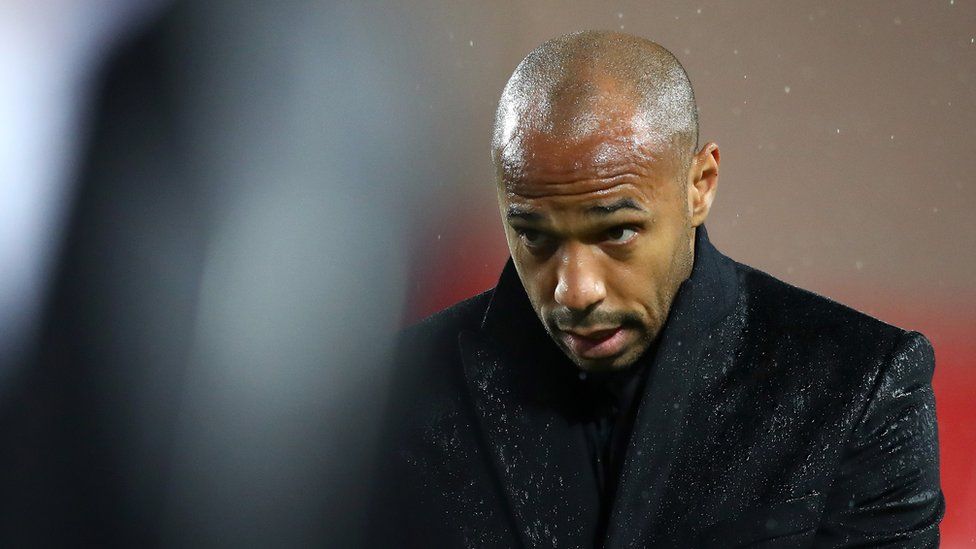 Thierry "va va voom" Henry had plenty of - well, voom - as a striker but he's endured a miserable start to life as Monaco's new manager.
Last night, his team were knocked out of the Champions League after an unceremonious 0-4 drubbing at the hands of Club Brugge.
The French side also sit joint bottom of Ligue One, while their owner remains in custody over corruption allegations.
Despite being one of the most celebrated players of the century, it seems like the Arsenal legend is so far failing to prove his worth in the dug-out.
But he's not alone. He follows a long line of fabulous footballers that were unable to keep the magic going once they hung up their boots.
"He's doing a Gary Neville."
These were the words of one fan to describe Thierry Henry's humbling at the hands of Club Brugge last night.
If you cast your minds back to December 2015, you'll remember Gary Neville's appointment as the manager of Valencia.
It didn't last. The formidable right-back was dismissed only three months later, after winning a meagre three of his sixteen games in charge.
At the time of his dismissal, Valencia were 14th in the league and only six points clear of the relegation zone.
During a career of over 20 years, the Argentine icon went far in cementing his reputation as arguably the greatest player of all time.
After achieving immortal status at Barcelona and Napoli, the tiny wizard secured an eternal place in sporting notoriety after the "Hand of God" knocked England out of the 1986 World Cup as Argentina progressed on their journey to victory.
But his managerial career wasn't quite as golden. Two shambolic stints at Argentina's Mandiyu de Corrientes and Racing marked the start of his managerial career in the early 90s.
His biggest moment came when he was appointed manager of Argentina in 2008.
After leading an unpredictable World Cup qualifying campaign that saw Argentina endure a 6-1 loss to Bolivia, his side headed to South Africa for a World Cup campaign that began with success.
Argentina topped their group with three victories against South Korea, Nigeria and Greece.
A win against Mexico then followed in the knock-out stages, before his side were knocked out after losing four nil to Germany.
Although the Argentine Football Association claimed that he would be offered a contract extension, the offer was withdrawn only 12 days later, sparking a bitter feud at the end of his tenure.
A string of ill-fated managerial stints in the Far East then followed, before he eventually became the manager of Mexican side Dorados in September 2018.
At present, the side sit in seventh place in the Liga de Ascenso, Mexico's top flight.
Despite being widely acknowledged as one of the most fearsome midfielders of his generation, the Manchester United legend proved to be less formidable an opponent in the dugout.
An early stint at Sunderland was marred by a 7-1 drubbing to Everton, which Keane later described as "one of the lowest points" of his career.
Although things improved with league-winning promotion to the Premier League in 2007, his two years in the top flight were marred by reports of Keane's strict managerial style and apparent bust ups with his squad.
After leaving Sunderland in 2009, jobs with Ipswich and Ireland's national team soon followed.
His time at Ipswich, in particular, was marked by a poor run of results that saw him being dismissed in 2011 after his team dropped to 21st in the Championship.
But why would great players make poor managers?
In theory, footballing icons on the pitch should still be able to impart their insight as managers.
But leading sports psychologist Dan Abrahams says it isn't that simple.
Dan, who provides frequent assistance to the AFC Bournemouth squad, believes that coaching is entirely different to playing the beautiful game.
"Coaching is a craft. It's a combination of an art and a science and you've got to spend a lot of time honing your craft to get good at it," he explains to BBC Newsbeat.
"It's not just a case of taking a course and getting some qualifications, you've got to go out there in the real world and create cultures and environments that are conducive to high performance."
He adds: "Psychologically, there's a lot going on about how people conduct themselves and how they can relate to each other.
"Good coaches take many years to master that. Clearly a footballer, someone who has played at the highest level has an advantage over someone who hasn't.
"But the converse is that if you're very good at something, you never really ask why. You never ask what are the components are that make up the quality of your game.
"And you shouldn't do. It's a dangerous thing to start asking."
Meanwhile, Dr Jamie Barker, a senior lecturer in sport and exercise psychology at Loughborough University, believes that the game's elite can often struggle to get in the same mindset as lesser talented players.
"There's some very talented players who make the assumption that everyone else is as talented as they were," he explains.
"They then become very frustrated with players that fall short of that and they don't have the good people skills, as it were. They just think everyone should perform at an optimum level all the time and there's definitely examples of that."
So, who are the exceptions to this?
Of course. You need only look at the likes of Pep Guardiola, Diego Simeone and Zinedine Zidane to see that red-hot talent can travel into the dugout too.
However, it should be noted that Guardiola and Zidane did inherit squads featuring the likes of Gareth Bale, Sergio Aguero and Luka Modric.