Architects: 'Beautiful' that Tom is still in our music after death
By Will Chalk
Newsbeat reporter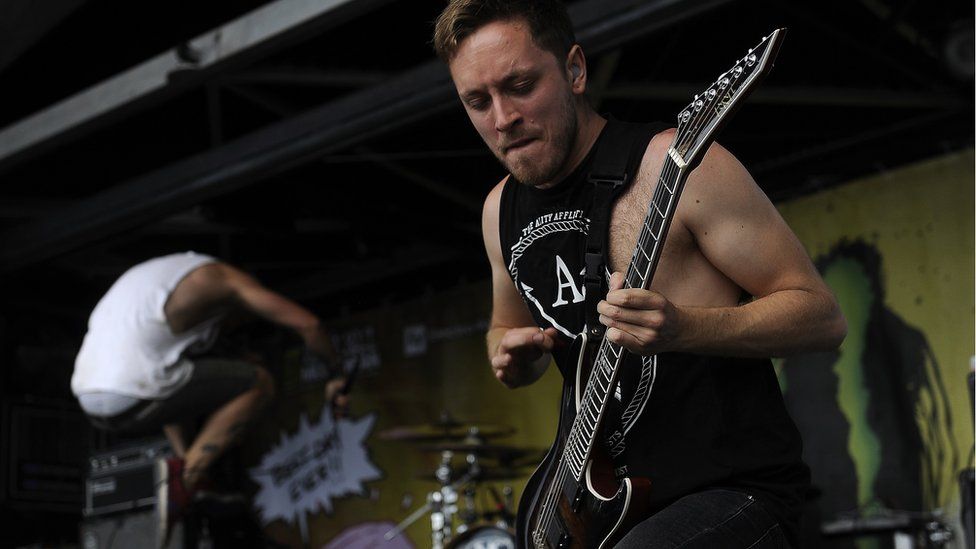 He's not only in your band - who've spent more than a decade touring the world with the likes of Bring Me The Horizon - but he's also your drummer's twin brother.
So what do you do when he dies?
It's a question Brighton band Architects have had to find an answer to after their guitarist Tom Searle died from cancer in 2016, aged just 28.
They're putting out their first album since Tom's death - but say he's still very much part of their music.
"Tom had lots of ideas floating around before he died. Some of them were amazing and some of them were rubbish," Tom's brother Dan tells Radio 1 Newsbeat.
They founded the band together in 2004.
Dan says he took these ideas - riffs on the end of demo tapes, for example - and built them into Architects' new album, Holy Hell.
"I initially didn't want to use any of it out of some insecurity that it would look like we needed Tom's scraps to sustain the band," Dan says.
"But that was a daft perspective, I realise, and actually it was really quite a beautiful thing that we were able to take that material and merge it with the rest of our ideas."
Dan says Tom is "all over" the album.
"I did a lot of chopping audio up - so on some songs he might have written a riff, others he might have written a lead guitar part or a bit of ambient noise in the background.
"It might even just be as a bit of inspiration - but he's there."
Despite being the first to admit that for most people their brand of metalcore is "unlistenable", Architects definitely aren't short of fans.
Their biggest track, Doomsday, has just shy of 19m views on YouTube, they're no strangers to the Radio 1 Playlist and they're headlining London's Wembley Arena in 2019.
After Tom's death, they went straight back out on tour.
"Grief counsellors typically don't even start talking to people until six weeks after their loved one has died - because you're just in too much shock," Dan says.
"And so, for us, going on tour fitted into that period of time where you're just not ready to process it.
"And it's strange because we were playing songs we'd always played and written with Tom - but it didn't feel weird."
Vocalist Sam Carter admits it was "mentally tough" singing Tom's songs night after night - but he's "glad" he did it.
His advice for anyone who has a friend diagnosed with terminal cancer is to make sure "nothing is left unsaid".
"We always said we loved each other and hugged every time we saw each other," he explains.
Dan says his biggest piece of advice is to "live with hope".
"I have no regrets over believing that Tom would live. I have no regrets believing he would beat it and I doubt he would have any either," he says.
"We had lots of great times when he had cancer.
"And going through something terrible like that gives you an appreciation for life and a gratitude for the little things you have.
"Overall, cancer made Tom a better person. So, no matter how bad things are, light can be found in the darkest of places.
"That's the message I hope people take away from this record."