Ariana Grande's 'secret' album has nothing to do with her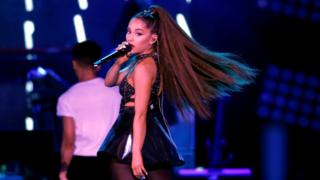 An album of what appeared to be unreleased Ariana Grande songs had nothing to do with the singer herself, Newsbeat understands.
Fans had been speculating whether she secretly released a whole album under a different identity.
Someone going by the name of Zandhr put the collection, called Nobody Does It Better, on several streaming services.
But a source close to the singer has told Newsbeat the album "was not affiliated with her" in any way.
After several users started debating online whether the 10 tracks were Ariana singing or not, the songs became unavailable.
The songs certainly sounded like they were being sung by Ariana herself, but it's still not known who compiled the collection (i.e. a fan) or who got their hands on the tracks.
We do know the release was completely unofficial and was posted by an unauthorised third party.
The tracks included Cadillac and Champagne, which were thought to be versions of Ariana's previously unreleased songs.
It was available on at least three different streaming services, but has since disappeared.
Adding fuel to the fire, the biography of Zandhr on Spotify appeared in the upside down font which Ariana Grande has used on her most recent album campaign.
While the music was still available, fans knew many of the songs already:
Too Close was a bonus track on the Japanese version of My Everything.
Nobody Does It Better was apparently intended for her debut album.
Better Days is a song that Ariana Grande performed with Victoria Monet at the One Love Manchester tribute concert.
In Your Hands is thought to be the collaboration between Ariana Grande and Diplo which was teased in 2016.
The album seemed to have been around for about a week, but it's only in the last 24 hours that people picked up on the link to Ariana.
Last weekend, the singer released surprise single Thank U, Next, in which she sings about four of her ex-boyfriends including Mac Miller and Pete Davidson.
She sings: "Thought I'd end up with Sean / But he wasn't a match / Wrote some songs about Ricky / Now I listen and laugh.
"Even almost got married / And for Pete I'm so thankful / Wish I could say thank you to Malcolm / 'Cause he was an angel."
Even though her fourth studio album, Sweetener, was only released in August, she's already teased that a whole new album is on the way before the end of the year.
As yet, no-one can seem to find significance in the name Zandhr, or a connection to Ariana Grande herself.
Follow Newsbeat on Instagram, Facebook and Twitter.
Listen to Newsbeat live at 12:45 and 17:45 every weekday on BBC Radio 1 and 1Xtra - if you miss us you can listen back here.