Loz on the Zeze Challenge: 'My haters made me famous'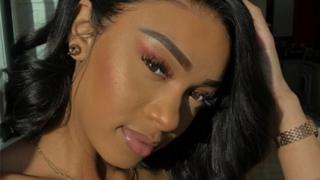 "My name's Loz, I'm a boss" is the opening line to one of Youtube's top trending videos this week.
I Shaku On The Beat As Well blew up when Wolverhampton-based influencer Loz Smith posted her addition to the Zeze Challenge.
In the viral challenge, social media users freestyle over Kodak Black's song Zeze.
But since Loz posted her video, she's been hit with thousands of negative comments online.
"I'm one of thousands of people that have done this challenge, and I'm the one that's been targeted," she tells Newsbeat.
It all started a couple of weeks ago.
Loz saw the Zeze Challenge online and thought: "I wouldn't mind jumping on it and doing something for myself."
So she wrote some lyrics to the Zeze beat in "an hour or two" and went round to her cousin's house to film it.
"I've never wanted to be a singer or anything like that," she says. "I started to get nervous."
But Loz's cousin persuaded her to upload the 57-second video.
"Within an hour when I came back on my phone, it was just crazy," says Loz.
"The comments were crazy and the views were really high as well."
She adds: "They were very negative at the start, I'm not going to lie."
Loz says that it was "a lot to take in at the start."
Why were they so negative? After all, loads of other people were uploading their freestyles, and weren't getting trolled for it.
"No one's ever seen me post anything to do about music," she says.
"My ex-boyfriend is in the industry, so it was like a 'why are you doing this' type of thing."
Loz used to date rapper J Hus - whose name comes up in some of the negative comments.
But Loz has made sure the "all publicity is good publicity" mantra still holds.
"I just thought I'm going to take something that started off so negative and flip it, and make it positive."
Loz wrote some extra lines and then got in touch with Link Up TV - the Youtube channel with over a million subscribers - to shoot a proper video for I Shaku On The Beat As Well.
That's the video that trended in the UK.
"The line 'I shaku on the beat as well' was very catchy. People wanted the extended version of that," says Loz.
Shaku is a dance that came out of West Africa.
Now, Loz even thanks her haters for fuelling her rise.
"I'm thankful for the negativity because I know it's the haters as well that have made it get to how big it is."
"I've come out with merchandise and I've been getting bookings left right and centre."
She even appeared on the 1Xtra Breakfast Show with Dotty on Thursday morning - live from the London Eye.
"That's when it became very real for me," she says. "It was a lot to take in."
As for what's next, Loz is "50-50" on whether she'll release more music.
"I have a degree under my belt.
"So many people were saying 'why you doing the music thing?'
"I can do it because I've got my degree [in sociology and criminology].
"It's something that I can fall back on. If this doesn't work out, then I'm fine."
Follow Newsbeat on Instagram, Facebook and Twitter.
Listen to Newsbeat live at 12:45 and 17:45 every weekday on BBC Radio 1 and 1Xtra - if you miss us you can listen back here.