House of Cards: Can shows survive when they lose their main stars?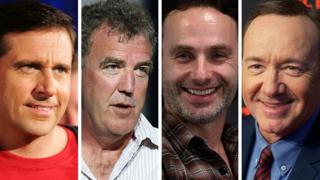 House of Cards returned to Netflix on Friday but with one big difference.
Its biggest star, Kevin Spacey, was dropped by the show last year following sexual assault allegations, which he denies.
Going in to the final series of the hit show, fans know that the once seemingly indestructible former president Frank Underwood (played by Spacey), is dead.
"My turn," his wife and new White House keys holder Claire Underwood, played by Robin Wright, promises in a teaser trailer.
While early reviews say the show struggles to shake off Frank's ghost, Wright's performance has been widely praised by critics - leaving fans optimistic for a satisfying conclusion to the series, despite a turbulent time.
But how have other major TV shows coped once their original stars have waved goodbye?
Warning: There's a Walking Dead spoiler below
Steve Carell and The Office
The US version of Ricky Gervais and Stephen Merchant's mockumentary was a massive success.
It had already run for six seasons when its star Steve Carell, who played the egotistical yet loveable Michael Scott, announced he was off at the end of its 2010-11 run.
Anyone who's seen the show knows just how integral he was, so many fans presumed it would end with his departure.
But that wasn't the case. The show returned for two more seasons without a direct replacement for Michael.
Critics, generally speaking, weren't kind. The last season was "loaded with flops", the Guardian said.
Vulture wrote: "Fact is, the show's first post-Steve Carrell year has been a mess, at times bordering on a disaster."
Rainn Wilson, who played Dwight Schrute in the show, later admitted the final two seasons got "a little wonky" without its main star.
Maybe not a total success then.
Charlie Sheen and Two and a Half Men
After several media reports about his private life, Charlie Sheen was fired from the hugely successful CBS sitcom Two and a Half Men in 2011.
At the time, it was the most popular show on the network so it's no surprise they wanted to find some way of carrying it on - and Ashton Kutcher was drafted in.
Despite being given the chop, Sheen's character, Charlie Harper, was killed off - and the actor was reportedly a fan of the way it was shown on screen.
Unlike The Office, its star leaving actually boosted its ratings and Kutcher's co-star Jon Cryer, who played Alan Harper, had warm words for Charlie's replacement.
He told the Huffington Post in 2014: "He came into what was an incredibly fraught situation and it was just water off a duck's back."
The show impressively kept going for another four seasons, before bowing out with a final 12th run in 2015.
Jeremy Clarkson and Top Gear
It's not just sitcoms that have to find a way to keep going after a lead's departure.
Jeremy Clarkson was a fan favourite on BBC Two's Top Gear. His chemistry with co-hosts Richard Hammond and James May launched the show to new heights.
But Jezza was dropped by the BBC in 2015 after a "fracas" with a Top Gear producer and Chris Evans grabbed the steering wheel when it came back a year later.
The ratings initially went into reverse - around two million viewers watched the final episode in 2016 - and critics weren't overly impressed by its relaunch.
Evans's stint was short-lived - he quit after one series - leaving Matt LeBlanc, Chris Harris and Rory Reid in the driving seat.
Ratings improved, and so did reaction from fans.
But now it's had to deal with yet another departure. Matt LeBlanc has decided to hang up his driving gloves, so the show is set for a handbrake turn.
Take Me Out host Paddy McGuinness and ex-cricketer Andrew Flintoff will join Chris Harris for the 27th series, meaning the show will have to find its feet once again after a big exit.
It's a tough ask, but this is a format which has stood the test of time.
Andrew Lincoln and The Walking Dead
The departure of British actor Andrew Lincoln from his iconic role of Rick Grimes in The Walking Dead has been used as a marketing tool for the ninth season of the post-apocalyptic drama.
Even though ratings for the show are lower than they once were, this is still one of the biggest shows in the world. And Rick Grimes's story has always been a big part of the show.
But The Walking Dead's new showrunner Angela Kang isn't too worried about Lincoln leaving.
"This is something he's been thinking about very deeply for a while so it wasn't a big shock to us," Angela exclusively told Radio 1 Newsbeat.
"We had a good amount of warning that this would be his final season. We deal with it, we write the stories.
"We have such a strong ensemble of characters. It's been really great to continue to write for these characters, they have really strong stories going on after Rick goes."
Both The Walking Dead and House of Cards face futures without the actors once seen as essential to the programmes.
Only time will tell whether these two shows can survive without the names of its biggest stars on the credits.
Follow Newsbeat on Instagram, Facebook and Twitter.
Listen to Newsbeat live at 12:45 and 17:45 every weekday on BBC Radio 1 and 1Xtra - if you miss us you can listen back here.