Sporting injuries: The athletes who carried on injured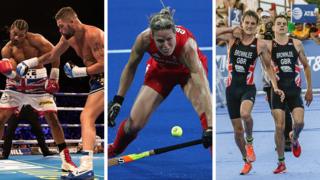 Picture this: you're mid-marathon, feeling pumped. Everything is going great.
Then suddenly you trip and fracture your leg.
At this point, you'd probably stop and get some help, right? Not if you're Rei Iida.
The student crawled her way to the end of her 2.2-mile section of a relay marathon in Japan, even though she'd fractured her leg.
Footage from Japanese television caught Rei with blood streaming from her legs as she was determined to reach the finish line.
But Rei isn't the first athlete to fight through injury to get to the end.
David Haye's Achilles
Remember THAT David Haye fight from last year?
In the sixth round of his fight against Tony Bellew, Haye split his Achilles tendon and carried on fighting... to the 11th round.
Shortly after the incident, images of David Haye's torn Achilles surfaced. He had completely destroyed the tendon.
But Haye wasn't the only one to get injured that day.
Tony Bellew told BBC 5 live that he broke his hand in the second or third round.
"It is sore now but I don't feel the pain - all I think about is winning," he told BBC 5 Live at the time.
Elbowed at the Olympics
Team GB hockey player Crista Cullen was described as "an absolute warrior" for her injury during play.
She finished Great Britain's match against New Zealand in the 2016 Rio Olympics, even after she was elbowed in the face.
She started spilling blood across the field after the clash and was helped off the pitch.
But Crista was soon back in the game with a plaster covering up her injuries and helped her team to a 3-0 victory.
Kompany's broken nose
Imagine breaking your nose and cracking your eye socket. Ouch.
Thirty minutes into a World Cup qualifying match for Belgium in 2013, Vincent Kompany went to head the ball - and ended up clashing with Serbian goalkeeper Vladimir Stojkovic.
He ended up with a broken nose, mild concussion and a cracked eye socket.
But instead of being taken off, Kompany played the full 90 minutes.
Belgium did qualify for the World Cup, so at least he got the result he wanted.
Brotherly love
Who could forget this moment from the Triathlon World Series in Mexico in 2016 when Jonny Brownlee was helped over the finish line by his brother Alistair?
The clip went viral for all the right reasons.
After completing a 1500m swim and a 40km bike ride, Jonny was leading the 10km run with 700m to go.
His brother Alistair - then in third place - ran to hold him up when he saw his brother struggling to stand.
Alistair helped Jonny over the line so he could get second place.
Jonny had to receive treatment at the end of the race but don't worry - he was well looked after.
Bloody match
Ex-England Captain Terry Butcher suffered one of the bloodiest and most famous football injuries in 1989 in a World Cup qualifier.
Terry clashed heads with an opponent in a qualifying match between England and Sweden.
As you can see in the picture above, it didn't end too well but like all the other players mentioned, he carried on.
Terry told the BBC in 2015 that the iconic image still follows him to this day.
"The picture of me with the bloodied head went all around the world and has since followed me wherever I've gone in football," he said.
Terry ended up with nine stitches and still has the scars to prove it.
Follow Newsbeat on Instagram, Facebook and Twitter.
Listen to Newsbeat live at 12:45 and 17:45 every weekday on BBC Radio 1 and 1Xtra - if you miss us you can listen back here.