Teen Awards: Liam Payne and Mabel's advice to young fans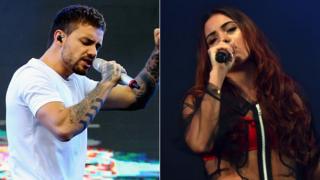 "I found being a teenager quite difficult actually. I put a lot of pressure on myself and now looking back at it, I really wish that I had relaxed and just enjoyed it more."
That's advice from Mabel, who says taking ownership over her anxiety has made her feel like a "superhero".
The Finders Keepers singer says being open about her mental health has helped her turn "dark, heavy feelings" into something positive.
"Whenever I have a bad day I tell everybody around me, 'Just so guys know I am having a bad day and I am nervous about these things', and that makes all the difference."
The 22-year-old was speaking at the Radio 1 Teen Awards, where she performed alongside the likes of Not3s and Liam Payne.
Mabel says she gets questions from lots of people who look at her and think she knows exactly what she's doing.
"Young women look at me and think, 'She's really confident, she has always had it figured out', but actually I really, really haven't. That has come over time as I became a young woman."
Her advice to teens is to "just enjoy every moment - don't stress. Just be yourself".
Mabel wasn't the only celeb Radio 1 Newsbeat asked to think back to their teenage years.
Liam Payne reckons he was a pretty boring teenager.
"I was really boring, I was just too serious about life. I might still be boring now, I don't know. It worked out alright but I was just a bit serious," he said.
The 25-year-old thinks there's a lot of pressure on teenagers in 2018, which he says is even more reason to praise this year's Radio 1 Teen Heroes.
"With everything that's going on online at the moment it's a world we are all getting used to, so having these amazing people come through that do these wonderful things is sorely needed right now."
"They're even setting an example for people like me who are a little bit older," he added.
Liam, who described being in One Direction as being like his "gap year", said it's important that teenagers are engaged politically.
"Obviously a lot of teens can't vote yet but getting them ready for that, they never really did anything like that in my day.
"Now we are in these important times with different elections happening. Young people need to get into it more."
He said Russell Brand was someone who inspired him when he was younger.
"I didn't know anything about politics but... Russell used to make me think and want to look at politics. So I think it's quite important that we have those examples."
Not3s, who burst on to the scene in 2018 and is just out of his teens himself, wants to make sure young people "aspire to inspire".
"Don't let anything be able to overtake your emotions," the rapper said.
"You should just make sure that you are capable of having a breather by yourself when you need to, and don't feel scared to as well - you need that moment.
"Once you do have that moment, clear up your mind, try to stay stronger and get back on to it."
Read the full list of Radio 1 Teen Awards winners here.
Follow Newsbeat on Instagram, Facebook and Twitter.
Listen to Newsbeat live at 12:45 and 17:45 every weekday on BBC Radio 1 and 1Xtra - if you miss us you can listen back here.