Elle magazine sorry after Kim and Kanye tweet tried to dupe people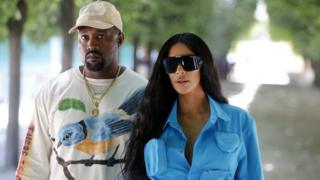 Despite what you may have seen on Twitter, Kim and Kanye have not broken up.
That's what Elle magazine appeared to claim in a tweet - except it turns out it was a dupe to get people to click through and vote in the US mid-term elections.
The US edition's Twitter account tweeted: "Kim Kardashian and Kanye West are splitting up."
It then linked directly to a voter registration page.
After an immediate social media backlash, Elle tweeted an apology, saying they "made a bad joke".
The tweet was criticised for being condescending and "fuelling the 'fake news' fire".
Some also said it suggested women, being Elle's main audience, were only interested in celebrity gossip. It seems as though the magazine was jumping on a viral Twitter trend, where people tweet fake celebrity gossip with a voter registration link.
Tim Cigelske, the author of one of the viral tweets, said he'd had messages from people who had actually registered as a result of them.
His tweet claimed to have a link to a story about the real reason Ariana Grande and Pete Davidson had broken up.
Writing on Medium, he called it "trolling for good".
Some suggested that they didn't want people foolish enough to fall for the trick to end up being eligible to vote.
But Tim added: "Don't conflate clicking on a clickbait link about current celebrity gossip as qualification or disqualification for taking part in our democratic process.
"We all should have interests other than politics  -  maybe it's celebrities, maybe it's cheeseburgers  -  and that's OK."
At the time of writing, the tweet and Elle's apology is still live.
The US mid-terms are due to take place in early November.
Registration closing dates vary from state to state.
They're being seen as an important test of Donald Trump's administration and a big chance for the Democrats to win seats.
Follow Newsbeat on Instagram, Facebook and Twitter.
Listen to Newsbeat live at 12:45 and 17:45 every weekday on BBC Radio 1 and 1Xtra - if you miss us you can listen back here.