Freddie Burns' fumble and more sports stars who celebrated too soon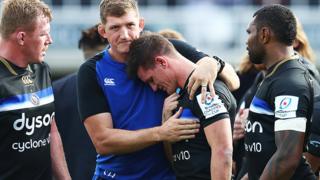 A kiss to his wife. A wave to the fans. It was only natural for Bath's Freddie Burns to want to celebrate his try against Toulouse.
The only problem was, Freddie celebrated a bit too early - before he'd even touched the ball to the ground.
It was knocked out of his hands by Maxime Médard and Bath eventually lost the match by two points.
"Today was an ultimate low and a mistake I'll learn from," he said on Twitter after the match.
Here's what happened.
Freddie apologised to his teammates and Bath fans after the incident and promised he would "bounce back".
But Freddie isn't the first sports star to feel the need for a bit of reputation recovery after an experience like this.
When your eyes are so firmly fixed on the prize, it's all too easy to get distracted and celebrate prematurely. Just ask this lot.
The runner caught on the line
In 2015, Oregon runner Tanguy Pepiot encouraged the watching crowds to cheer as he approached the line, in first place, at the end of a race.
But they weren't cheering his seemingly unrivalled victory - they were making noise because rival runner Meron Simon was fast approaching, and Pepiot was too busy waving at spectators.
Simon won, saving his celebrations for after he'd passed the line.
The cyclist who crossed it first
There was no questioning it - Luka Pibernik crossed the line first during the fifth stage of Giro d'Italia in 2017, and boy did he mark the moment.
The only problem was, there was still another lap to complete.
The stage was won by rival Fernando Gaviria.
The goalie who blew it for a bounce
The goalkeeper for Thai team Satri Angthong was understandably over the moon when a penalty kick hit the crossbar during a shootout with Bangkok SC.
But what goes up must come down, and when the ball landed - after the keeper had fled the goal to celebrate - it bounced back into the unattended goal.
The snowboarding show-off
Lindsey Jacobellis had no competition as she headed into the final stretch of the women's snowboard cross at the 2006 Winter Olympics.
Until, of course, she tried to add a little flourish to her inevitable win by performing a method grab trick on the second to last jump.
When she landed, she fell, allowing Switzerland rival Tanja Frieden to close the 43-metre gap between them and win the race.
At least you're not alone, Freddie.
Follow Newsbeat on Instagram, Facebook and Twitter.
Listen to Newsbeat live at 12:45 and 17:45 every weekday on BBC Radio 1 and 1Xtra - if you miss us you can listen back here.