LM5: Why Little Mix's album title is a clever move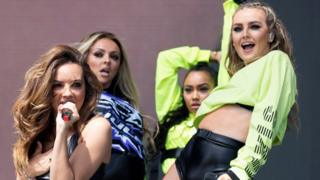 When your favourite artist is hinting at new music, finding out the name of a new album is a pretty big deal.
But Little Mix fans have been using the title of their fifth record "for years" without realising it.
"We love how you've named each of our eras," the group tweeted before announcing the new album is called LM5.
While some called the name "lazy", it's also a sign of a group who are in tune with their audience - possibly more so than a lot of their peers.
In its most literal sense, the title is a tribute to Little Mix's army of followers, who have been referring to the project as #LM5 for some time.
Fans of lots of acts refer to upcoming music in a similar way before titles are announced - eg #AG5 for Ariana Grande's fifth album - but the big names rarely acknowledge them so blatantly.
Little Mix have thanked their "amazing fans" in several award acceptance speeches and their song Secret Love Song is regularly dedicated to their LGBT fans.
But even for self-confessed "die harder Mixers", having an album title inspired by the group is "a big statement".
Nathan, who runs the fan account Mixer Management, tells Radio 1 Newsbeat he was "shocked" when the album title was announced.
"I didn't expect the girls to name their album LM5.
"I really love it. It's personal to us and we've been calling it that for years now."
But it's fair to say the name hasn't gone down well with all fans - a petition has been started to change it.
American fan Omoi admits it might sound "lazy to some" but points out that other artists have opted for similar names before.
"Beyonce's 4 was her fourth album, but the number also has a big meaning for her."
She added: "LM5 is simple, it's slick, and it has meaning between them and fans."
Little Mix and their team have capitalised on social media.
Rather than bank on the tried and tested vanish, delete-Instagram-account-and-make-it-all-white-before-the-album-comes-out model, they've used it to take fan involvement in the album beyond just the name.
"They spent a lot of time on social media asking us which old songs we liked," says Omoi.
"And they've been asking for our opinion of what we want on it."
In a world where music fans are used to surprise albums and unprecedented levels of behind-the-scenes access on social media, it can be difficult to keep them engaged during time away from the limelight.
Little Mix's approach has given fans a sense of inclusion and - despite not releasing an album for two years - a satisfying fix of the girls.
Essentially, fans have had no excuse to disappear into a world of "you might like this" playlists and let their interest in the group dip.
For Omoi, the group's approach is a welcome change.
"We feel involved in this album.
"They've been transparent in the way that they wanted to communicate with us a lot. I'd like to see more artists do that."
Follow Newsbeat on Instagram, Facebook and Twitter.
Listen to Newsbeat live at 12:45 and 17:45 every weekday on BBC Radio 1 and 1Xtra - if you miss us you can listen back here.