Mental health waiting lists 'stole my youth and teenage years'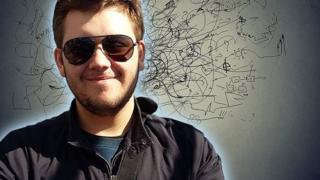 When Kerean Watts was 13 years old, he knew something was wrong with his mental health.
Kerean was experiencing "persistently dark moods" but when he visited his GP he was told his problems were hormonal and something he would grow out of.
"Every time I would go with this utter sense of dread," he tells Newsbeat.
It took nearly a year to be referred to a mental health NHS specialist and Kerean says the wait made his problems "much worse".
He says it stole his youth at a time when he should have been enjoying his teenage years.
"The waiting cost me a lot more than time," he says.
"I had to grow up a lot quicker than I think I should have because for quite a long time, I had to deal with my mental health issues. I had to deal with them alone.
"It did take away from my youth, from my teenage years and my childhood."
Waiting for help can have a major impact on lives
During his wait for a mental health specialist, Kerean, who's from Ynysddu in Caerphilly county, considered a suicide attempt - he thought it might convince doctors his symptoms were serious.
"I didn't know if I'd have to do something as drastic as that to be taken seriously, to be listened to," he says.
Kerean is among the 24% of people in the UK who have had to wait for more than three months to see a mental health specialist. 55% wait more than four weeks.
A new report from the Royal College of Psychiatrists found that 36% of people waiting had experienced relationship problems, 32% experienced money issues and 34% had problems with their work - including job loss.
It took until Kerean was 15 to be diagnosed with depression and autism and he wants the government to invest more into mental health care in order to reduce waiting lists.
"What's being allocated isn't enough when you consider how common a cause of death suicide is, particularly for men under 30," he says.
"No other disease could take so many lives and affect so many people and not get the money that's needed."
'There is more for the government to do'
A spokesperson for the Department of Health tells Newsbeat that mental health is a "key priority" for the government.
"We are on track to help 70,000 more children and young people with their mental health every year by 2021," it says in a statement.
But despite introducing waiting time standards among other new policies, they also admit there is "more to do".
Now, Kerean is 19 and after passing his A-levels earlier this year recently started studying politics and international relations at university in London.
Kerean admits that, like many people with mental health issues, he has good days and bad days.
He says that since starting at university, he has struggled with his mental health but is optimistic about his future - with hopes of studying for a masters degree and pursuing a career in either journalism or the public sector.
"I used to profoundly worry that my mental health would stop me from achieving anything," he says.
"I'm not afraid to look for help anymore because I know if I'm not listened to the first time, you've just got to keep going back."
Struggling to get help with your mental health? Here's some advice from Kerean
1. It's not your fault
"You have to wait but it's not your fault. It's not because you're not worthy of the attention, it's not because you're not worthy of the help, it's because of issues that are beyond your control."
2. Keep trying
"It's hard to keep going back. It's hard to go back in the knowledge that you won't be listened to again and again. But it's important to get that help so just keep going back."
3. Hold nothing back
"Don't feel like you have to qualify anything you say for anyone's comfort or benefit. Just be honest about exactly what your problems are, what issues you're having and the help you think you need. If they don't listen then just keep going back, keep trying."
For help and support on mental health visit the BBC Advice pages.
Follow Newsbeat on Instagram, Facebook and Twitter.
Listen to Newsbeat live at 12:45 and 17:45 every weekday on BBC Radio 1 and 1Xtra - if you miss us you can listen back here.