Captain America actor Chris Evans to 'retire' from role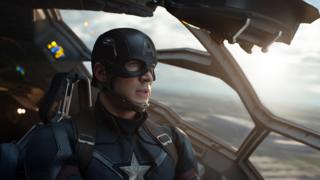 It looks like Chris Evans - the actor who plays Captain America in the Marvel movies - is giving up the role after eight years.
He's played him in 10 films, starting with Captain America: The First Avenger.
Chris portrayed one of the original cinematic Avengers alongside Iron Man, Thor, Hulk, Black Widow and Hawkeye.
He's now finished filming Avengers 4, Marvel's 22nd film, and tweeted to say that playing Cap has been "an honour".
Warning: There are some spoilers below for Avengers: Infinity War
The Marvel Cinematic Universe - or MCU as it's also known - has been an absolute beast of cinema since it began with the first Iron Man film in 2008.
Captain America: The First Avenger was the fifth film in the series, released in 2011.
It introduced a whole new audience to Steve Rogers, a small, scrawny but honourable man who more than anything wants to join the US Army to fight the Nazis during World War II.
He's given an injection of serum that turns him into a super soldier: Captain America.
The rest is (fictional) history. As Cap, Chris has fought Nazis, aliens, evil robots and even his own best friend.
Online, there's an outpouring of emotion over the end of an era.
Even other superheroes are getting involved. Here's Deadpool actor Ryan Reynolds.
Others have been showing their love for the man behind the mask too.
Chris Evans's apparent retirement from playing the character isn't a surprise.
He previously said of the role: "You want to get off the train before they push you off."
And we've known a lot of the main Avengers actors are out of contract after Avengers 4.
That as yet untitled film is the direct sequel to Avengers: Infinity War, where a lot of characters appeared to die.
We'll have to wait until next year to find out what happened to the characters in that film.
Captain America isn't the first comic book character that Chris Evans has played.
He was also the Human Torch in two Fantastic Four movies in 2005 and 2007 alongside Jessica Alba.
Evans has been a vocal critic of US president Donald Trump, calling him the "puppet" of Russian leader Vladimir Putin earlier this year.
Follow Newsbeat on Instagram, Facebook and Twitter.
Listen to Newsbeat live at 12:45 and 17:45 every weekday on BBC Radio 1 and 1Xtra - if you miss us you can listen back here.