Glastonbury tickets: How to improve your chances of getting in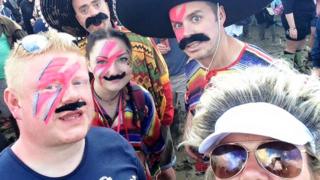 It's a tense time for Glastonbury fans, with tickets for the 2019 festival going on sale this week.
Coach and festival tickets go on sale at 6pm on Thursday 4 October and main tickets for the festival are on sale from 9am on Sunday 7 October.
No performers have been announced for Glastonbury 2019, but that won't stop it selling out.
Even though 135,000 people get to go every year, there are always people left empty-handed after the ticket rush.
So people are always looking for ways to improve their chances of getting tickets for themselves and their mates when things go live on the Glastonbury website.
Here's how you can give yourself a fighting chance of getting to Worthy Farm for Glasto next summer - from people who know what they're talking about.
1. Work together with friends to buy your tickets
Matt Levesley, who's been to Glastonbury six times, believes a coordinated approach with friends is the best guarantee to getting in.
You can buy up to six tickets at a time, so by teaming up with mates you improve your chances.
Matt's planning to go in 2019 with his band Future Fires, who he hopes will get to play the festival in the future.
"We try to do it as a bit of a syndicate, we're on the WhatsApp group, we're all watching out for the first person who manages to get through and then it's all systems go," he says.
"It's a buzz. It's super exciting. The minute you get through, it's a real rush."
2. Grab every phone, laptop and tablet you can
Matt also recommends trying on as many devices as possible.
"I make an effort to get my phone on the go, I get the laptop on, I get tablets out," he says.
"I basically go around the family trying to get every device we've got in the house together so we can have as many chances as possible."
3. Get super serious with your planning
For 24-year-old Emily Lynch - and her friendship circle of more than 100 people - the only way to make sure everyone gets in is to plan things meticulously.
They rely on a spreadsheet to tell everyone trying to get tickets who else they need to buy for.
"The spreadsheet is split into 17 groups," she says.
"If any of us get through, the idea is to buy for our group and then we move onto the next group and then the next. We did it last year and only one person got through, but they managed to get every group's tickets."
Emily says that if it wasn't for her friends' organisation, she wouldn't have got tickets for 2017, because she couldn't get through on the Glastonbury website.
4. Use the best internet connection you can
Tom Connick is a writer for NME and he believes the key to getting your tickets is your internet connection.
"The people who seem to get through are the ones who have the strongest connection," he says.
"I know people who have gone into work on a Sunday because they work in big office buildings that have very good internet, as opposed to slightly dodgy home internet."
5. Change your address
But he also knows people who have gone to more extreme lengths to get through the gates.
"A friend of mine at university changed his address because we had a friend who lived in Wells in Somerset," he says, as local people get an "easier ride" securing tickets.
"He managed to get him through on the local sale but obviously that required a lot of planning."
It's worth noting that Glastonbury Festival told us that tickets purchased in this way would be considered fraudulent and "will be cancelled".
6. And never, ever give up
Tom also says that the annual Glasto re-sale is where he has twice secured his tickets, but his biggest tip for Sunday is to ignore the Glastonbury website's "sold out" messages.
"More and more batches of tickets will go up for sale throughout the morning," he says.
"I know people who've managed to get tickets two hours after the website has said they were sold out, just through sheer persistence."
Follow Newsbeat on Instagram, Facebook and Twitter.
Listen to Newsbeat live at 12:45 and 17:45 every weekday on BBC Radio 1 and 1Xtra - if you miss us you can listen back here.