Why my real fur sells 'like hotcakes'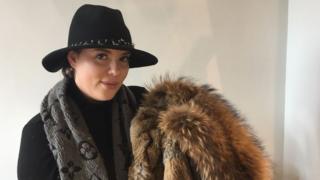 Faye Rogers says she's been forced to close her shop selling fur, but insists she still 'loves it' and won't stop selling it.
The 28 year old has shut her shop in Stroud which sold clothes with fur on them, because of protesters and abuse she got online.
"Cruelty to animals is bad, but I think how they are making me out is a lot worse," she says.
"I was told to die of cancer and I'd be skinned alive.
"Someone said they'd throw acid on my face and burn my business down to the ground," she tells Radio 1 Newsbeat.
At the weekend there was a protest outside her shop, which only opened four weeks ago.
Animal rights campaigners had placards and were handing out leaflets telling people to boycott the it. So Faye decided she had to close.
"To be honest I just didn't feel safe anymore," she says.
"When they are saying that I'm killing these animals and I'm an animal abuser that's just wrong because I'm not."
Selling fur in the UK is not illegal, but there are strict regulations on where the fur is purchased from.
The Government banned fur farming in the UK in 2003 and now most of the fur sold here comes imported from other countries like China and Russia.
Despite the ban on farming the fur trade is still worth millions of pounds to the UK economy. But charities like PETA want all imports to be banned, claiming it is inhumane, cruel and that animals are often caged or even skinned alive.
"85% percent of the fur industry's skins come from animals on fur factory farms - dismal, often filthy places where thousands of animals are usually kept in wire cages for their entire lives," its website says.
Faye tells Newsbeat the fur products she had 'sell like hotcakes'.
"If there's a demand for something and my customers want it, I enjoy it and I'm allowed to sell it and wear it, then I'm going to do it."
Earlier this year Burberry announced they were going to ban fur.
Faye sells jackets which are lined in fur, including fox, rabbit and raccoon.
"People feel fabulous in fur, that's the whole point of it.
"I trust my source and where I get my fur from. I get my fur from a dealer in Paris, and it comes from China."
Even though Faye shut down the shop, she is still running her business online through Facebook and Instagram.
The entrepreneur says she's a dog lover, her three dogs baby, coco and pearl are 'her babies'.
"I've been called an animal abuser, and an animal killer. It's very hurtful because I love my three dogs."
Follow Newsbeat on Instagram, Facebook and Twitter.
Listen to Newsbeat live at 12:45 and 17:45 every weekday on BBC Radio 1 and 1Xtra - if you miss us you can listen back here.