Fifa 19: The ultimate test for any relationship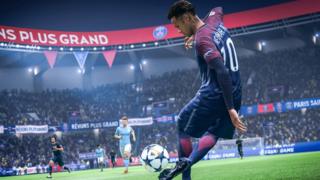 Let's start with a confession - the Fifa franchise has impacted on more of my friendships and romantic relationships than I'd care to admit.
During my teenage years, OK and most of my adult life as well, nights out and even whole weekends have been planned around the latest available version.
Dinner, trips to the cinema and even sleepovers have been cancelled or postponed to maximise game time.
And with the Fifa 19 video game released today - relationships across the world will be tested once again.
The annual excitement surrounding it is another clear indicator that it really is in a league of its own when it comes to sport games.
The venue for the UK launch is a Grade 1 listed building in Docklands, east London.
With a guest list featuring Stormzy, Kevin De Bruyne and Jack Whitehall.
"It's really the only game I play," Jack Whitehall tells Newsbeat.
"Although I took some time out from it and my brother got better than me. That's the most soul crushing time in a man's life when his little brother absolutely serves him up on Fifa," he jokes.
He adds: "I'm a really sore loser. I bring stuff back up from years ago and I have a horrendous temper. Smashed controllers and everything."
Largely thanks to its Ultimate Team mode, which allows players to build their own star-studded club teams, the Fifa franchise has dominated the football game market in recent years.
Since the release of the original game in 1993, Fifa International Soccer, subsequent titles have sold more than 260 million copies worldwide.
One man with a huge grin on his face walking the red carpet is Adebayo "The Beast" Akinfenwa who for the fifth consecutive year has been named as the game's strongest player. The game looks at the real-life attributes of footballers and then creates the virtual version of them accordingly.
The Wycombe Wanderers striker says: "I take pride in my work-outs so to get it again I am happy with it. I enjoy the gym so to be acknowledged for something I enjoy is great."
He says the willingness of EA, the game's maker, to listen and incorporate changes suggested by gamers is key to its success.
"I think like anything in life you continually have to grow and I think Fifa continues to grow. They listen to their fan base and the little tweaks they can make to get better.
"I think if they continue to do this they'll keep wiping off every single part of the competition."
Although not everyone is always a fan of change.
David, 20, from Banbury, Oxfordshire, says the shooting and set-piece controls have been adjusted.
He says: "I couldn't score a goal in the first game. I was like how can they have made the game worse than the last one?"
A Fifa fan for the last four or five years he told us he won't be rushing out to get the latest offering.
"A lot of the times my defenders will do an over head-kick to clear the ball. Like how unrealistic is that. You never see Dejan Lovren or Shkodran Mustafi doing over-head kicks. It's just ridiculously hard."
David isn't alone.
Megan Rapinoe is the highest ranked female player in the game: "I am pretty bad at the game my nephew whoops me every time - actually everyone that plays me whoops me.
"But it's pretty incredible to be in the game, it's surreal. If I could control myself in Fifa like I could in real life that would be great."
Female players made their first appearance in Fifa 16 which was released two years ago.
The Seattle Reign FC striker says she believes a female player gracing the cover of the game is a real possibility.
"There's so many people that come up to me and are like, 'I'm a fan because I played as your team on the game.'
"I think in terms of growing the game especially for the women just the sort of recognition we get from Fifa it's really important.
The Fifa titles are also well remembered for their soundtracks.
London-born rapper Ocean Wisdom is one of the artists featured on this year's title: "People that play it and enjoy it might not even listen to my genre of music let alone know me as an individual."
The 25-year-old musician says he hoped the exposure would propel his career to the next level.
"Basically a good song in the right place on a good game defines the game. And every time someone thinks of that game they think of that song.
"I feel like a concrete ball rolling down a hill and this is just another person pushing it. Fifa has just giving me a nice push in the same direction I am heading."
Follow Newsbeat on Instagram, Facebook and Twitter.
Listen to Newsbeat live at 12:45 and 17:45 every weekday on BBC Radio 1 and 1Xtra - if you miss us you can listen back here.