MNEK 'disappointed' in lack of support from straight black men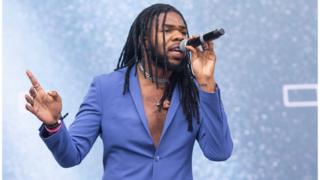 MNEK is known for speaking out about being both black and gay and supporting his LGBT fans.
Now the singer-songwriter says he's had a "lack of support" from straight black men following the release of his debut solo album.
Language was released on 7 September but has failed to make it into the UK top 40 album chart.
He said his music makes a lot of black straight men "uncomfortable" and he wasn't surprised at the "backlash".
MNEK made the claims in a series of tweets on Monday which have since been deleted.
He said he was only digestible when "singing next to a rapper singing about God" - which appears to reference his appearance on Stormzy's Blinded By Your Grace.
"It hurts but it's the truth of my career and being black and gay in this game."
The 23-year-old said he'd done a lot of promotion for the album so the sales were "disappointing".
"At the end of the day it's people's decision whether they want to listen or not."
He went on to say he wasn't blaming straight black men for his album not selling well but he wanted to open up a conversation about how he's perceived.
It provoked a big discussion on Twitter with fans sharing their views.
MNEK has worked with big artists like Beyonce, Ariana Grande, Dua Lipa, Christina Aguilera, Diplo and BTS.
His collaboration with Zara Larsson released in 2015 got to number five in the UK singles chart.
In June, the singer told Newsbeat his debut album would be a "black, gay, pop, experience".
"I'm so proud of it, it's been such a long time coming," he added.
"I want more people to know who I am and I want to have the chance to tease my music a bit more."
Newsbeat has contacted MNEK's representatives for a comment.
Follow Newsbeat on Instagram, Facebook and Twitter.
Listen to Newsbeat live at 12:45 and 17:45 every weekday on BBC Radio 1 and 1Xtra - if you miss us you can listen back here.