Bodyguard: The unanswered questions from the final episode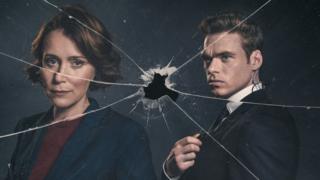 It's been one of the biggest dramas for years and last night BBC One's Bodyguard ended with a 75-minute special.
Millions of viewers were hoping to get answers on who planted the bomb at St Matthew's College which killed (or at least seemed to kill) Home Secretary Julia Montague.
Its creator Jed Mercurio has confirmed that talks about a second series have started.
But as the credits rolled, it seems some of us were straight onto WhatsApp trying to work out if there was unfinished business.
Here are some of the biggest unanswered questions.
Warning. This article contains spoilers.
Longcross: What was he really up to?
Remember him - he was acting shifty in the hotel corridor of Julia's hotel and his face was the subject of a pretty dodgy e-fit.
But did we really get a satisfactory conclusion about MI5 agent Richard Longcross?
Sergeant David Budd had been pursuing him for most of the series after all.
Did he just want the tablet back so the kompromat on the prime minister didn't go any further? Oh, and what happened to his face after he got sprayed with CS gas (or was it acid)?
How did Luke Aitkens know Nadia?
So it seems pretty clear we all underestimated Nadia.
No, she wasn't the oppressed wife driven to carry a suicide vest on a packed train as we thought. In fact, she said she was a jihadi - and seemed intent causing mass carnage herself.
She worked with organised crime big guy Luke Aikens to supply the St Matthews College bomb - but how did he ever get her number or slide into her DMs?
Is there more to twitchy Mike Travis?
First things first. Yes - Twenty Twelve, Banana and Cucumber. It's that actor, Vincent Franklin.
After Julia's death, Minister of State for Counter-Terrorism Mike Travis got the big job.
Why was he always so twitchy though? So, so, twitchy. Was he just nervy about being home secretary or was there something more to it?
The last we saw of him was on the phone to MI5 chief Stephen Hunter-Dunn and he was still anxious.
Why was he so worried that David was about to become the hero?
Was commander Anne Sampson squeaky clean?
She was the head of the Metropolitan Police's counter terrorism command and someone who didn't rate Julia Montague one bit.
Not least because Julia wanted to make the secret service more powerful by bringing in the RIPA 18 bill.
There were some clever tricks in the show from early on which nudged viewers towards thinking Anne was the bad egg.
In the end, Chief Superintendent Lorraine Craddock was the bent copper, but did Anne really not know anything about her years of dodgy deals with Aitken?
Who was Vicky Budd's boyfriend?
Just like Stan from Will and Grace or Kerry's mum in BBC Three's This Country, he is on that great TV list of "always mentioned, never seen" - but why didn't he make an appearance?
Vicky talked about him lots and we always saw the Budd kids.
Let's just chuck this out there - was Vicky Budd's boyfriend actually Richard Longcross? Or maybe it was just some colleague from the hospital she worked in.
Is she dead?
Well we've got to talk about it given it's all we've talked about for the last three weeks.
Actress Keeley Hawes is a very busy and talented lady - maybe she could only fit in filming for three episodes?
It seems like Julia Montague is really dead. Sob.
But judging by early social media reaction, plenty of Bodyguard fans aren't willing to accept it - especially with the chat about a second series.
We never did see that "private" funeral, did we?
Did Daniel Chung get a commendation?
A quick mention of the unsung hero of the sixth episode.
Bomb disposal expert Daniel Chung is the man you'd want by your side in a crisis.
He was the one who helped David Budd defuse the bomb he had attached to him and played a blinder.
Daniel definitely deserves a medal and some long service leave.
All six episodes of series one of Bodyguard are available on BBC iPlayer in the UK for another five months.
Follow Newsbeat on Instagram, Facebook and Twitter.
Listen to Newsbeat live at 12:45 and 17:45 every weekday on BBC Radio 1 and 1Xtra - if you miss us you can listen back here.