Emmy Awards: The TV shows you don't watch, but should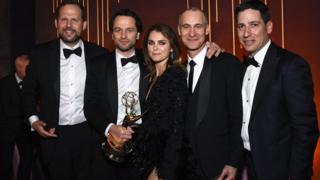 It's no surprise shows like Game of Thrones, The Crown and The Assassination of Gianni Versace bagged a lot of awards at this year's Emmy's.
But there are some TV series that won big which haven't necessarily managed to make an impact in the UK, in terms of viewing figures... yet.
Here are four you might want to check out - because summer's basically over and it's almost time for Netflix/Amazon Prime and chill.
You're welcome.
The Americans
What's the plot?
Set in the 1980s, travel agents Elizabeth and Philip live just outside Washington DC running the family business and taking their kids to Sunday school.
On the side they are some of Russia's best KGB spies, smuggled into the US 20 years earlier, defending their "motherland", infiltrating the FBI and becoming too many alter-egos to mention.
The plot twist: an FBI agent tasked with finding the "KGB illegals" has moved in across the road from them.
What did it win?
Welsh actor Matthew Rhys won the lead actor in a drama series with Joe Fields and Joe Weisberg taking home the award for writing for a drama series.
Where's it available to watch?
All six series are available on Now TV and Amazon Prime, with ITV Encore having the UK terrestrial TV rights.
Despite not doing amazingly well in the US ratings - averaging around 1m viewers - the show's fan base were loyal and it was consistently critically acclaimed.
Is there an interesting fact about it?
There are two: it's written and created by former CIA agent Joe Weisberg, using some of his own personal experiences in the series - and Keri Russell & Matthew Rhys (Elizabeth and Philip) got together during filming and recently had a son.
Godless
What's the plot?
It's no man's land because women are in charge here, for now.
Starring Michelle Dockery (Lady Mary in Downton Abbey) and Jack O'Connell (Cook in Skins) in 19th Century America, think of the stereotypical Western film but with a twist.
Defending themselves against male outlaws, led by the the one-armed Jeff Daniels character Frank Griffin, it has a lot of shoot-outs.
What did it win?
It won in both the supporting actress and supporting actor in a limited series or movie categories, for performances by Merritt Weaver and Jeff Daniels.
Where's it available to watch?
The seven-episode series is available exclusively on Netflix.
Is there an interesting fact about it?
It took around 15 years to get onto our screens.
Scott Frank started writing it in 2002, when it started out as a feature film.
Barry
What's the plot?
The series follows former SNL actor Bill Hader, who's trying to make the career transition from hitman to actor - a tale as old as time...
After being hired to bump someone off in Los Angeles he accidently finds himself in a class of wannabe performers - who wouldn't be out of place in other comedy shows like Extras.
Although he's not very good at it, acting replaces the thrill of murder and Barry's left with a dilemma that would stump any secondary school careers advisors.
What did it win?
Bill Hader won for lead actor in a comedy series, with Henry Winkler taking home supporting actor in a comedy series.
Where's it available to watch?
The HBO show was made available on Sky Atlantic in the UK, as well as Now TV.
Is there an interesting fact about it?
Critics question whether Barry is a comedy or a drama - some say it's both, but the Emmys rule book says anything 30 minutes or shorter in length is a comedy, and anything longer is a drama.
The Marvelous Mrs Maisel
What's the plot?
A Jewish housewife supports her husband trying to make it as stand-up comedian in 1958 New York.
He repays her by having an affair and she leaves him, gets drunk and ends up - in a wine-fuelled drunken rage - discovering she has much more of a knack for making audiences laugh than her soon-to-be-ex-husband.
So she embarks on working on the stage, keeping it a secret from her family.
What did it win?
Rachel Brosnahan won for best lead actress in a comedy series, Alex Borstein was awarded best supporting actress in a comedy series. It also won for best comedy series and directing by Amy Sherman-Palladino.
Where's it available to watch?
The two series were picked up by Amazon studios and can be streamed on its Prime service.
Is there an interesting fact about it?
Rachel Brosnahan was told many times in her career during auditions that she wasn't funny. The Emmy on her mantelpiece might have something to say about that now though.
Follow Newsbeat on Instagram, Facebook and Twitter.
Listen to Newsbeat live at 12:45 and 17:45 every weekday on BBC Radio 1 and 1Xtra - if you miss us you can listen back here.