Ghetts: I used to feel rage 24/7 but now I'm happy
By Kameron Virk
Newsbeat reporter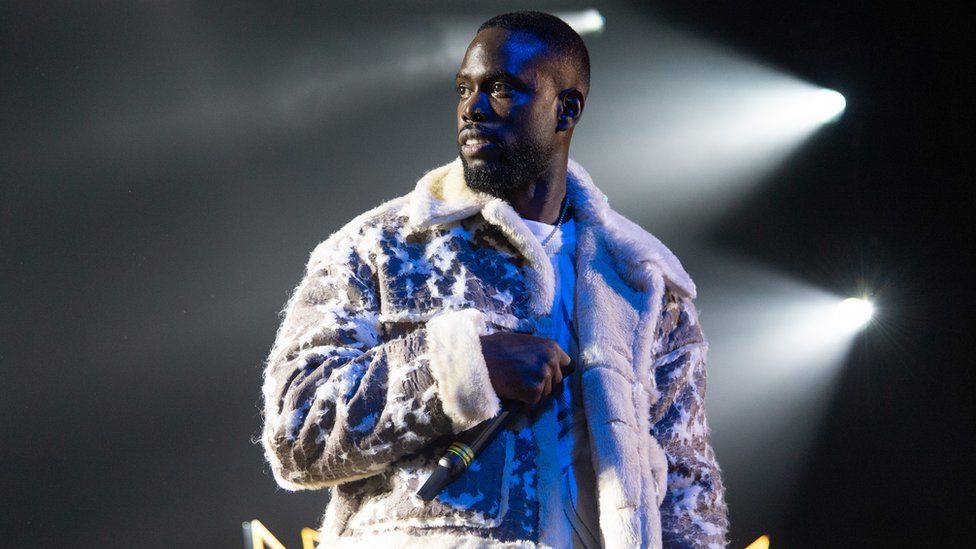 Ghetts is darting around, high energy, responding to every request from the many people in this east London venue who require his attention.
When it's time for us to speak I expect he might be a bit distracted.
But from the moment we start talking he only looks at me. The gaze remains, whether I'm asking a question or he's answering it - and it's accompanied by a smile.
It's not an emotion you'd have associated with the MC's music down the years.
In fact Ghetts, real name Justin Clarke, says he was the guy that brought "darkness" into grime.
"Before Freedom of Speech, grime did not sound that way. The people cannot argue with that," the 33-year-old says of his 2008 release.
Ghetts wasn't always the most-liked MC in the room when he appeared on 1Xtra and other radio stations' sets back in the day - or at least that's the way it appeared.
He'd built up a reputation as someone unafraid to take on anyone - mostly because he took on everyone over a two-year period in 2008/09. (Type "Ghetto v" into YouTube and see what comes up).
"I always felt like I had a point to prove, that's why I was like that," he tells Radio 1 Newsbeat.
"I always felt like the underdog, the underrated one, so I always felt like I had to do 10 times more than the other person."
Ghetts burst on to the scene in 2003, when grime wasn't called grime and he was called Ghetto.
He'd just come out of prison, where he'd spent time in and out of from a young age.
"Back then I just felt rage 24/7," he says. "Anger."
Asked whether Ghetto then could have foreseen Ghetts now, he said: "I want to say yes but I don't think so. Nah, I dunno. It's mad blud.
"Man's got an album and film dropping in the same month. That's wild."
There was a time where Ghetts's biggest worries weren't about music - so he can understand the situation of artists who use rap as a way of escaping difficult environments.
UK music has been under a spotlight in 2018. The UK's top police officer has linked drill music to a surge in violence in the capital.
"When I talk to the youtdem I try not to sound like I can understand what they're going through, because it's very different now to when I was a yout. It's worse.
"I feel like I understand why somebody would feel the need to protect themselves, when somebody has already been close to death.
"What I would actually say is surround yourself with some people that really care about you - that care about your wellbeing, that care about your mental state. That want to see you here in 10 years, alive and well and free."
The excitement for his latest album, Ghetto Gospel: The New Testament, has been real.
He says his projects are chapters in his life, and this one is about what he's "surrounded by now, what exactly is happening, the position I'm in, the emotions I feel".
A change in surroundings - including having a daughter to look after - is a large part of what Ghetts puts his newfound happiness down to.
"When I changed my surroundings, my thinking changed and my energy changed.
"When I had a negative energy, and I felt very dark and I felt very low, I always used to find myself in these different situations.
"Surroundings are most of our problems most of the time."
The New Testament shows Ghetts embracing every element of who he is as an artist - it's storytelling, has conscience, rawness and energy.
The MC has never chased radio play, choosing not to make a crossover mainstream pop hit in the late noughties - unlike some other artists.
"Those decisions that I made not to chase radio were decisions that ensured I had 10 more years in music.
"Because the climate changed and it changed back to what people originally love us for - there's no better time to be yourself than now."
Ghetts says he still feels the rage that used to be all consuming when he was younger, but not in the same way.
"At this point I feel way more secure within myself, so it may seem like I'm toned down because I feel like I have less to prove.
"I'm just in a great space mentally, and spiritually as well."