England netball: Still high on positive vibes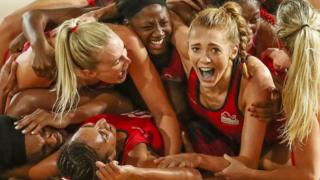 "I'll still be excited about that win for the rest of my life", Helen Housby tells Newsbeat.
It's been five months since England's netballers won gold at the Commonwealth Games in Australia.
Housby, who plays goal shooter and goal attack, scored in the final second to secure the win against the hosts.
She says The Roses, who are now ranked number two in the world, don't want that win to be a "one off".
"We want to inspire generations to come and make it a future thing that England are on top in the netball world."
On Saturday, The Roses will play together for the first time since that gold medal win, as they begin their Quad Series campaign.
They take on New Zealand in Auckland in their first match, before facing Australia and South Africa.
Housby says the team are hopeful that they can win the series.
"I'm feeling great about this Quad Series, the whole team is feeling good and we've got a lot of energy," Helen says.
"I think everybody is just happy to be back in this squad and it's kind of surreal to be doing this as a job and we're just enjoying it."
Housby says the squad thrives on "high energy and positive vibes" which she says helps the team play well.
"It's a lot of jokes but a lot of hard work - the atmosphere is great."
"It's so nice to finally have everyone back together."
England's Commonwealth gold medal was reported widely in mainstream media, giving the sport a new prominence.
"We heard participation numbers went up after the win and people are now investing in the game", Housby says.
"That's what we want - we want young girls to see it as a viable career option, which I don't think it has been in the past."
"It's kind of surreal to be doing this as a job, but we're just enjoying it."
Follow Newsbeat on Instagram, Facebook and Twitter.
Listen to Newsbeat live at 12:45 and 17:45 every weekday on BBC Radio 1 and 1Xtra - if you miss us you can listen back here.