Sierra Burgess: Netflix's latest teen movie has divided viewers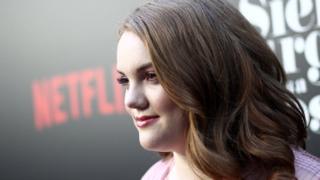 For some, Sierra Burgess Is A Loser is a harmless Netflix rom-com starring Shannon Purser.
For others, it's insensitive to deaf people, has transphobic and homophobic jokes, glorifies catfishing and exploits the issue of consent.
The lead actress herself has said the film is "a commentary on internet culture".
It sees a high school girl trying to get with another student by pretending she's a popular cheerleader.
Speaking to Clevver, Shannon, known to many as Barb from Stranger Things, said the movie looks "at the way that society pressures young women to compete against each other and conform to a certain ideal".
The film itself has not been entirely slated by critics, achieving a reasonable 68% rating on Rotten Tomatoes.
But there are some highly critical thoughts posted by users on Twitter.
On the disability issue, the main character pretends to be deaf so that she doesn't have to speak to Noah Centineo's character, Jamey (i.e. revealing her true identity).
Model and actor Nyle DiMarco, who is deaf, said: "It is extremely easy to make jokes about marginalized or disfranchised groups - but that makes you a lazy writer."
Others say jokes about the LGBTQ community are made without any comeback or criticism by other characters.
Rowan Ellis, 26, from London, is a social media manager and finds some of the elements in the movie "problematic", especially a scene in which Jamey kisses Sierra, thinking it's in fact someone different.
"This kiss was completely non-consensual," she says.
"It was not considered or talked about at all within the movie. It had swelling, romantic music to suggest that she was finally kissing the boy. But instead, it just felt very gross to me.
"I feel things should have been examined a lot closer. Things like the moral implications of catfishing someone, the emotional implications of that and also a non-consensual kiss. I felt that was completely brushed off - there wasn't a conversation around it."
Of course, there are others who feel the criticism is unnecessary.
Charlotte Coombs, 23, a commercial assistant in the TV industry, thinks the film had a "cute story".
"I think the message of the film was to say that you should just be yourself, put your personality across and be upfront and honest from the beginning. It was an easy watch and that's why I liked it.
"I hope most people know that catfishing is wrong and the film's not telling you to do that. You're probably not going to be in a good place yourself if you're taking inspiration from the film."
The film is the latest in a series of teen-orientated content which Netflix is currently pushing out.
In the past year there has been buzz around films like The Kissing Booth and To All the Boys I've Loved Before, as well as series like Insatiable, which was also criticised for its portrayal of plus-sized characters.
Newsbeat has contacted Netflix to see what it makes of the discussion around its latest film.
Follow Newsbeat on Instagram, Facebook and Twitter.
Listen to Newsbeat live at 12:45 and 17:45 every weekday on BBC Radio 1 and 1Xtra - if you miss us you can listen back here.