UK backpacker Sam Oliver cleared of assault: 'I'm not a thug'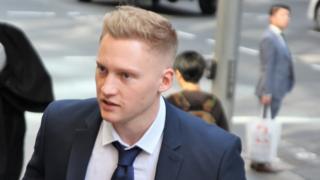 Sam Oliver should have spent the last six months backpacking around Australia.
But after a drunken late-night fight in Sydney, he found himself at the centre of a media storm and being accused of knocking out former Rugby Sevens captain James Stannard.
On Wednesday, after his lawyers argued he acted in self-defence, he was found not guilty of assault.
The 23-year-old, from Newcastle, told Radio 1 Newsbeat he wishes none of it had happened.
"To go back now, I would take the black eye and still go away. I wish I could avoid the whole thing," he said.
"It's not something that you would ever think that would happen to you."
It all began in March, after he'd been out for drinks with friends. Sam Oliver and his lawyers said he had been waiting outside a kebab shop when James Stannard had sworn at him and used an anti-British expletive.
"It was a bit weird, I didn't know who said it," said Sam.
"I just said something back being a bit cheeky rather than aggressive really."
It was then he says James Stannard threw the first punch, giving him a black eye.
"I was punched so I reacted pretty much instantly and instinctively and hit him back and then I tried to get away from there," he said.
It wasn't until after his arrest Sam Oliver was told who he had punched.
"They said, 'Do you know who it is that you've hit?' And I said, 'no'.
"And he just said, 'Oh it's the captain of our Australian rugby team and you've put him out for the Commonwealth Games'.
"I was just like, what?"
After that, there was a flurry of Australian media attention, with the media camped outside both the police station and the place he was living at the time.
"It was tough to deal with, seeing my name get dragged through the mud, really, and seeing that I was made out to be a thug, which I'm not," he said.
"Everybody who's ever known us knows that's not the case."
James Stannard had a fractured skull after the fight and retired from rugby in June.
He told the media following the case that he still suffered from vertigo after the altercation and was unhappy with the verdict - maintaining he didn't throw a punch on the night.
Sam Oliver says he hopes both of them can move on with their lives.
"I just wish him all the best in his life.
"He was drunk, it won't reflect who he is as a person when he's sober, so I wish him all the best. He wants to move on with his life and I want to move on with mine. That's it."
The 23-year-old is coming back to the UK at the end of this week - and is not keen on a return to Australia.
"I think I just want to stay home for a while," he says.
Follow Newsbeat on Instagram, Facebook and Twitter.
Listen to Newsbeat live at 12:45 and 17:45 every weekday on BBC Radio 1 and 1Xtra - if you miss us you can listen back here.