Lana Del Rey: Israel gig 'not a political statement'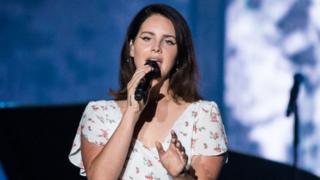 Lana Del Rey has defended her decision to perform in Israel next month in a statement she posted on Twitter.
The singer has been criticised since announcing her debut performance at the Meteor Festival, with some people calling it a "serious mistake".
"I would like to remind you that performing in Tel Aviv is not a political statement or a commitment to the politics there," she wrote.
"I'm doing the best I can and my intentions are better than most."
Lana cancelled a show in Israel in 2014 as a result of the war that summer between Israel and Palestinian militants in the Gaza Strip.
Despite her reference to the city of Tel Aviv, the Meteor festival is scheduled to take place at Kibbutz Lehavot Habashan in the Upper Galilee region.
"We don't always agree with the politics of the places we play within or even our own country," she added.
"But we are musicians and we've dedicated our lives to being on the road."
Some people aren't satisfied with Lana's stance, and have compared her performing in Israel to performing in South Africa during the apartheid era.
The Palestinian Campaign for the Academic and Cultural Boycott of Israel (Pacbi) urged the singer to "reconsider".
"Thousands of artists from around the world have pledged not to perform in Israel until it respects the human rights of Palestinians."
Pacbi is part of the Boycott, Divestment & Sanctions (BDS) movement, which campaigns for a complete boycott of Israel over its policies towards the Palestinians.
Israel says that BDS opposes the country's very existence and is motivated by anti-Semitism.
Some called for Lana to "take a stand against oppressors".
However others backed her decision.
Celebrities like Lorde and Radiohead have previously faced backlashes for performing in Israel.
Lorde cancelled a gig in December after she received an open letter from fans arguing that her concert would show support for Israel's occupation since 1967 of the West Bank and East Jerusalem - land that Palestinians claim for a future state.
"Thank u for educating me, I am learning all the time too," she tweeted.
Radiohead were asked to call off their show in July 2017 as part of a cultural boycott led by BDS, but lead singer Thom Yorke tweeted: "Playing in a country isn't the same as endorsing its government".
He added: "We've played in Israel for over 20 years through a succession of governments, some more liberal than others."
Follow Newsbeat on Instagram, Facebook and Twitter.
Listen to Newsbeat live at 12:45 and 17:45 every weekday on BBC Radio 1 and 1Xtra - if you miss us you can listen back here.