Stormzy launches Cambridge scholarship for black students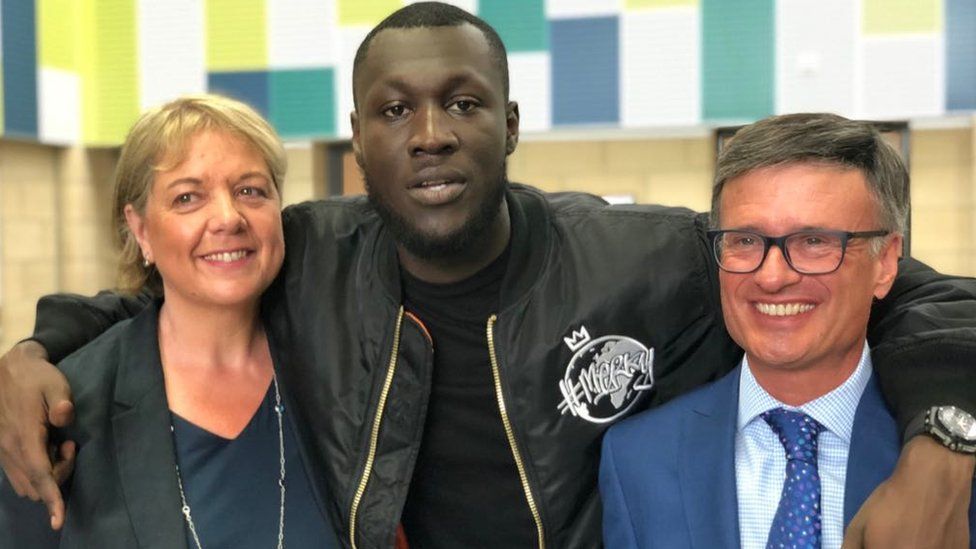 Stormzy has announced that he will fund two black British students to go to the University of Cambridge.
The Stormzy Scholarship will pay for tuition fees and provide a maintenance grant for up to four years of an undergraduate course.
The rapper says: "It's so important for black students, especially, to be aware that it can 100% be an option to attend a university of this calibre."
The rapper will fund two students this year and two in 2019.
Explaining why he set up the scholarship, Stormzy tells Radio 1 Newsbeat: "In school and college I had the ability and was almost destined to go to one of the top universities.
"But that didn't happen for myself... so hopefully there's another young black student out there that can have that opportunity through my scholarship."
He adds: "I always said that there's a whole bunch of academically brilliant, excellent students who also need an incentive."
Cambridge has been criticised for not admitting many pupils from a black, Asian and minority ethnic (BAME) background.
In June, the university asked for help from schools and parents to increase the number of black British students it enrols.
It was after the Financial Times found that some Cambridge colleges didn't take in any black students from 2012 to 2016.
The university says that it admitted 58 black students on to undergraduate courses in 2017.
"We're going to have young black students who are academically brilliant and smashing it, and they should just have that opportunity to walk into a university like Cambridge," says Stormzy.
The 25-year-old announced the scheme at his old school Harris City Academy in south London on A-level results day.
He didn't go to university, but did get six A*s, three As and three Bs at GCSE.
"It sounds corny coming from a rapper, but I did love learning and I loved studying so I enjoyed that side of things," he says.
"But also, I made some of the best friends of my life at school, and so many memories."
Julia, who goes to Stormzy's old school, got three A*s in English literature, history and government and politics.
As a result, she's on her way to Cambridge in September.
"I didn't really know that someone that famous and that influential could come from my school," she says.
"I'm definitely going to apply for the scholarship because it seems like something that students who struggle with their financial situation at university may really benefit from, especially if they come form background similar to mine."
She thinks that black students are less likely to apply for universities like Cambridge because "they see it like a really distant, alien place that they would not really thrive in".
"But in reality, if you have the ambition and have the grades, there's no reason why someone from a similar background to mine can't apply there and be successful."
Stormzy also says that of all his achievements, "this one in particular" makes his mum proud.
"My mum always had this plan of 'You're going to school and college, then you're going to go Cambridge.'
"It didn't happen for me, so I feel that for me to get to this place in my career and be able to do something where we can help young black students get into Cambridge is a testimony to her hard work as well."
In 2016, when he was a guest speaker at the Oxford University Guild, Stormzy said: "It was my dream to come to Oxford and study political science.
"I always thought Oxford is better [than Cambridge] anyway, it's got a ring to it."
To be eligible for this year's Stormzy Scholarship, applicants must be of black ethnicity and have an offer to study at Cambridge.
The application deadline is 30 August.
For the 2019 entry to Cambridge, students need to apply through Ucas by 15 October.
The students will be selected from a list of applicants by a panel of university staff.
This article has been updated to clarify who will be funding the Stormzy Scholarship.