A-level results: Here are all the cliches you'll see today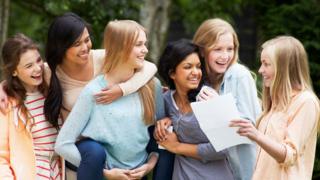 It's A-level results day.
Which means these things are happening right now.
Pictures of impossibly happy people jumping in the air
Special points if you actually catch people doing this in real life, rather than just for the benefit of a newspaper photographer.
Minus points if you're the one doing it.
Photographers shouting at identical twins
They'll be identical. They'll be pretty.
They'll have got respectable grades from a respectable school and their photos will be everywhere.
An eight-year-old who got an A* in physics
We don't even want to talk about this.
It's nice for them but it might not be what you need to hear.
A young celebrity putting their great exam results on Twitter, Snapchat and Instagram
It's been the likes of Tom Daley (straight As) and Brooklyn Beckham (passed all his GCSEs) in the past.
In 2017, the role fell to Malala Yousafzai, who announced that she'd got into Oxford.
We can imagine the conversation: "What did you get Malala?"
"Three As. And a Nobel Peace Prize."
An old celebrity saying, 'Don't worry, I got rubbish grades'
This year, it's Jeremy Clarkson.
Last year, it was also Jeremy Clarkson.
The year before that? Clarkson.
In fact, every year it's Jeremy Clarkson.
Looks like he has a tweet ready to go every year. Wonder if he's scheduled 2020's tweet yet?
Did you know Jeremy Clarkson got a C and two Us?
Teachers/family members/friends' parents asking about 'the future'
Seriously? This gets tired quickly.
This time should be about being relieved the whole ordeal is over, enjoying your last month with your friends and going to the pub.
Especially going to the pub.
Braggy parents Facebook-ing their children's results at 8am. TOO SOON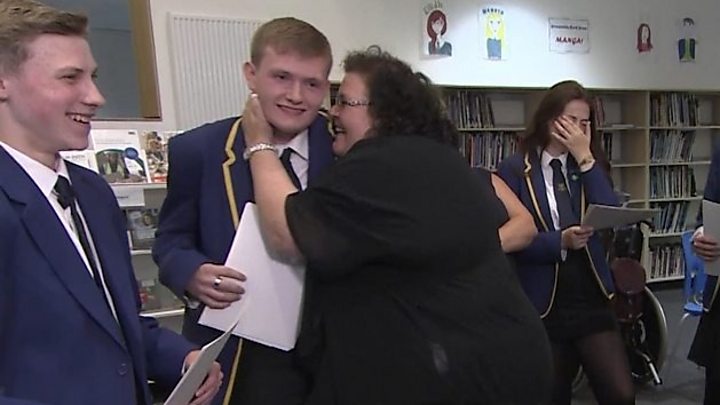 Reason #7,594 why you shouldn't be friends with your mum on Facebook.
People saying 'exams are getting easier'
It won't take someone long to say this and, if you've spent two years working towards this day, you'll be delighted to hear their opinion.
Should you wish to reply, try this...
Prof Alan Smithers, director of University of Buckingham's Centre for Education and Employment Research, says: "Ofqual is propping up the grades of the new tougher A-levels, so overall the results are likely to be close to what they were last year. If, anything, they are likely to go down."
All joking aside, if you didn't get the results you wanted it's not the end of the world.
And you can always go to BBC Advice for information on exams and exam results.
A version of this article originally appeared on Newsbeat on 18 August 2016.
Follow Newsbeat on Instagram, Facebook and Twitter.
Listen to Newsbeat live at 12:45 and 17:45 every weekday on BBC Radio 1 and 1Xtra - if you miss us you can listen back here.