Stop and account: 'Stopped under a police power I'd never heard of'
By Michael Baggs
Newsbeat reporter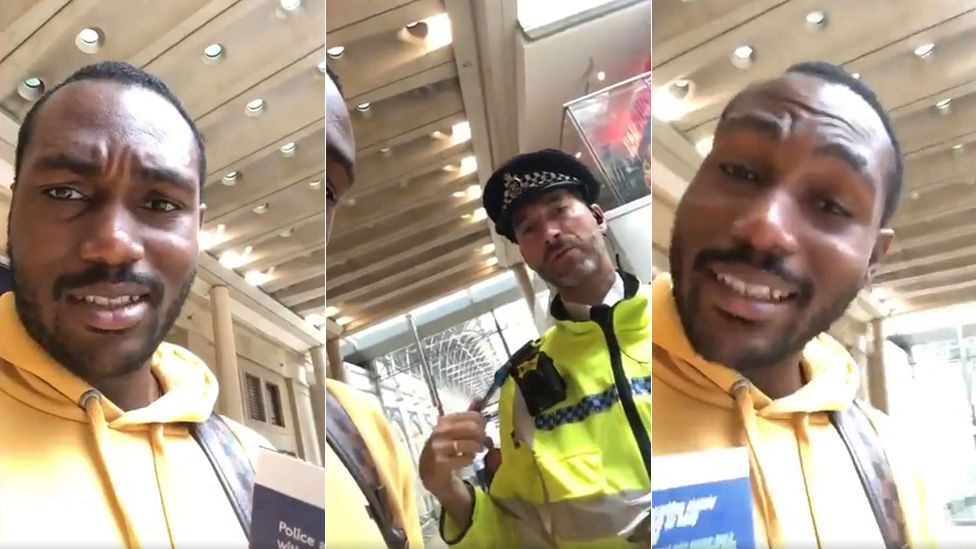 Samuel Eni was leaving a supermarket at Paddington train station in London when he was stopped by a police officer and asked to explain what he was doing.
The 28-year-old hadn't committed an offence and wasn't searched - but was told he needed to "account for his presence" there.
He says he was stopped under the stop and account police power - which is when an officer stops someone and asks what they're doing.
Sam believes it happened because he's black but the Metropolitan Police says it was part of a joint operation with the British Transport Police.
He filmed the incident and posted the footage on social media.
So today this happened to me it's called "Stop and Accounting" now under the law the police don't have the power to force you stay but this situation was different. This is completely racial profiling, stereotyping, and prejudice. pic.twitter.com/NegWk0VufH

— Samuel Eni (@SamuelEnii) August 8, 2018
Sam says he started filming the incident because he was confused about stop and account, having never heard of it before.
"I had no problem with complying, but the grounds he was stopping me on just didn't make sense," he tells Newsbeat.
"After I'd asked him if I fitted into a profile of a criminal or terrorist, he said 'No'."
'I didn't feel like I could leave'
Sam missed his train to work because he was stopped by the police officer.
He says he believes "100%" that he was stopped because he is black and worries how others might react if it happened to them.
But Sam worries that because so few people seem to know about the procedure, they will be unaware of their rights.
"I felt like that's something they could take advantage of," he adds.
"I didn't feel I could leave at any point."
Newsbeat has asked the National Police Chief's Council when stop and account was introduced, but as yet it has not responded.
The Metropolitan Police say Sam was stopped as part of Project Servator, which aims to tackle terrorism and other offences, and includes "highly visible and covert police officers" who are "specially trained to spot the tell-tale signs and behaviour of individuals who may have criminal intent".
"As part of this activity, a number of people were spoken to and asked to account for their presence, including a 28-year-old man," they said in a statement.
"The tactic is based on extensive research into the psychology of criminals and how to undermine their activities."
What is a stop and account?
According to West Yorkshire Police, stop and account is when an officer stops and asks you what you are doing, why you are in a specific area or what you are carrying.
It's important to know that the police officer doesn't have the power to make you stay if you are stopped under stop and account.
It is different to stop and search, which come with much stricter legal conditions.
There is no national requirement for police forces to make any record of how many stop and accounts they carry out or the ethnicity of those stopped, according to the College of Policing.
Instead, they are allowed to decide for themselves whether they wish to do so.
If a person stopped and asked to account for themselves wants information on how to complain about how they've been treated, an officer should provide this.
In 2013, the Home Office said stop and account was not a defined power set out in primary legislation, but an "important part of on-street policing".
"It constitutes the next step beyond the general conversations officers have with members of the public every day."