Modern slavery in the UK: 'They could be sat right in front of you'
By Michael Baggs
Newsbeat reporter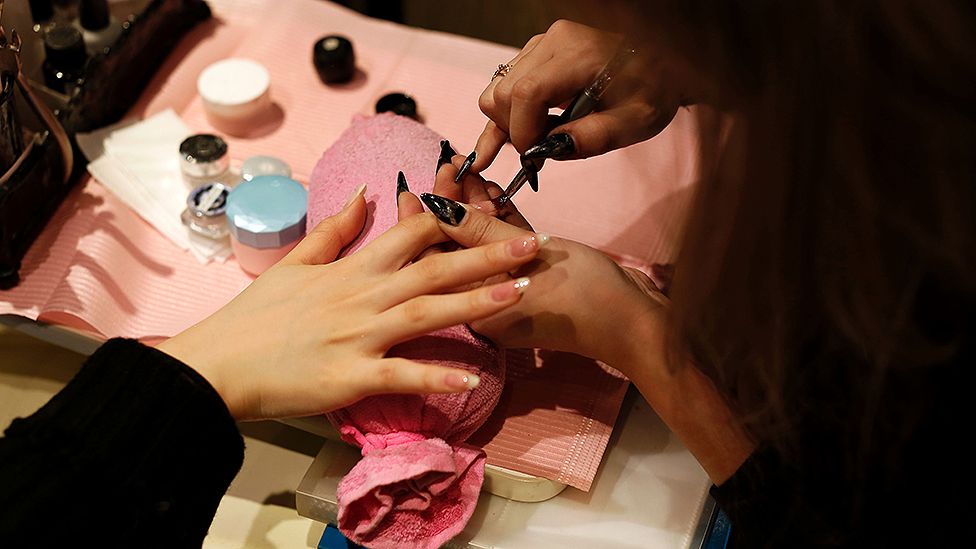 Slavery still exists in the UK, and it can be found in nail bars, factories, car washes and the cleaning industry.
That's according to prosecutor Eran Cutliffe, the person responsible for the UK's first modern slavery prosecution involving children.
Two were jailed for their part in trafficking teenage girls from Vietnam to work in the UK's nail industry.
"The overwhelming feeling by the time we got to the end was relief," Eran tells Newsbeat.
"Relief that the justice system had found the evidence to show what I thought it did, but also that the girls in question had had some validation."
Eran spent two years working on this landmark case, coordinating the police, barristers and trial proceedings in the investigation.
Give things a 'second thought' when you get your nails done
She hopes the result (along with the documentary) will bring more awareness to people who may not realise slavery is happening in many parts of the UK.
"Hopefully it will help people think," she says.
"It's not just a case of going and getting your nails done and not giving it a second thought," she says.
'It's so blatant that you don't question that it is criminal'
The girls involved in the Bath case were brought to the UK from Vietnam, where they were without family, support or jobs and promised a better life in the UK by traffickers.
They were given clothes and food by their captors, and slept in an attic in a very average home in the West Country.
Eran encourages everyone to keep their eyes open to any signs that people they encounter in the most ordinary spaces could be involved in modern slavery.
"They could be living next door to you or I and they could be sat right in front of you," she says.
"It's so blatant that you don't question that it is criminal."
She says that if someone you encounter, in a nail bar or otherwise, is very young, unable to engage in conversation or appears fearful or "controlled" then you should report it to the authorities.
"If we don't challenge these things we're never going to get any further forward," she says.
The Bath case is the first of its kind in the UK, but is part of an international effort to stop human trafficking, which is widespread across the UK and Europe.
Eran hopes that the prosecutions in January of this year brought some closure to the girls who were being worked illegally in the Bath nail bars.
"I sincerely hope that when they have had time to reflect on what's happened to them and feel secure in their life, that they can realise that they were wronged," she says.
"Hopefully it will give them some strength and some closure moving forward."
But getting help for victims isn't easy
But, as the documentary shows, when victims of child trafficking are identified, it's not a simple case of finding safer places for them to get help and support.
"The victims of modern day slavery are often very fearful of the authorities - so social services, the police, and prosecutors," she says.
The young victims in Eran's case ran away from foster services days after being taken from their captors, only to return to the nail bars where they were working unpaid.
"There's a bit of security in going back to what you know and certainly if you're able to freely speak the same language," she says.
"They are so very much conditioned, so it's a psychological thing to want to go back.
"It's not free will and free choice, effectively they are trained."