Sanctions: What are they and why do countries use them?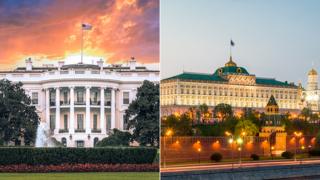 The USA has said it will impose new sanctions on Russia over the poisoning of two people in Salisbury.
Sergei Skripal was a former Russian double agent living in the UK. Along with his daughter Yulia, he was left seriously ill after being poisoned by the nerve agent Novichok in March.
The UK blames Russia, but the Russian government strongly denies any involvement.
But what are sanctions and how do they work?
What is a sanction?
Sanctions are punishments a country (or group of countries) puts on another country.
In this case, it means that the USA has banned American companies in certain industries from exporting their goods to Russia.
Those products include machinery and electrical parts - the trade of which could be worth "potentially hundreds of millions of dollars", according to a senior US state department official.
The punishments will get harsher in three months' time if Russia doesn't follow the USA's demands on the use of chemical weapons.
Why do countries use sanctions?
"You can impose sanctions against another state because you want to see a change in behaviour of the other state," says Professor Moritz Pieper, a lecturer in international relations at the University of Salford.
The idea is that "the population gets angry, and will demand from its own government to do something to rectify the situation."
Countries can also introduce sanctions in retaliation to other countries' sanctions.
Russia did this in 2014 in response to restrictions put on them by the EU and USA.
What different types of sanctions are there?
The sanctions being used by the USA are economic - they ban companies from selling goods to Russia.
Countries can also impose financial sanctions. That's when the financial assets of certain people or organisations are frozen, so they can't access their money in foreign bank accounts.
Sanctions can be quite a blunt instrument if they are a blanket ban on something, and can have unintended consequences.
But "smart sanctions" are sometimes used - they're much more targeted and designed to only punish a small number of people rather than an entire nation.
For example, people close to Syrian president Bashar al-Assad - including his wife Asma - have had their assets frozen over the government's violent response to the Syrian uprising.
What sanctions are the UK involved in?
The EU and the UN - which the UK is part of - often agree to sanction a certain country.
For example, there are bans on exporting arms to countries including Armenia, Iran and Syria.
The US and EU (including the UK) also enforced sanctions against Russia in 2014 as a result of the Russia-Ukraine conflict.
These "smart sanctions" targeted sectors managed by the powerful elite around Vladimir Putin, including banks and oil companies.
They also banned some of the major business leaders with ties to the Russian government from coming into the EU and US.
Whether the UK will introduce new sanctions on Russia because of the Skripal case remains to be seen.
Follow Newsbeat on Instagram, Facebook and Twitter.
Listen to Newsbeat live at 12:45 and 17:45 every weekday on BBC Radio 1 and 1Xtra - if you miss us you can listen back here.